Invisalign Braces Clarksville,TN
Straighter Teeth The Easy Way
Invisalign braces makes your smile the best it can be. Most everyone knows that your smile is one of the first things people notice when meeting you for the first time. if you're worried about the impression that you make because of misaligned teeth, you may not be putting your best face forward. Your Clarksville Dentist can help. Reluctance to smile, laugh or open wide when singing, for example, can affect your social and professional relationships. So what are you to do?

Advantages of Invisalign Braces
Traditional orthodontia offers a great solution to the problem, however, many people would rather avoid the metal-mouth look that regular braces provide. You may think it will make you look less professional. You may be embarrassed to admit that you didn't address your crooked smile when you were younger. Or maybe you just don't want to deal with the discomfort, frequent appointments, and length of treatment that are associated with braces. Fortunately, there are alternatives. Invisalign from Schmitt Dental in Clarksville, TN may be able to solve all of these problems with one revolutionary treatment.
Clear Braces Save the Day!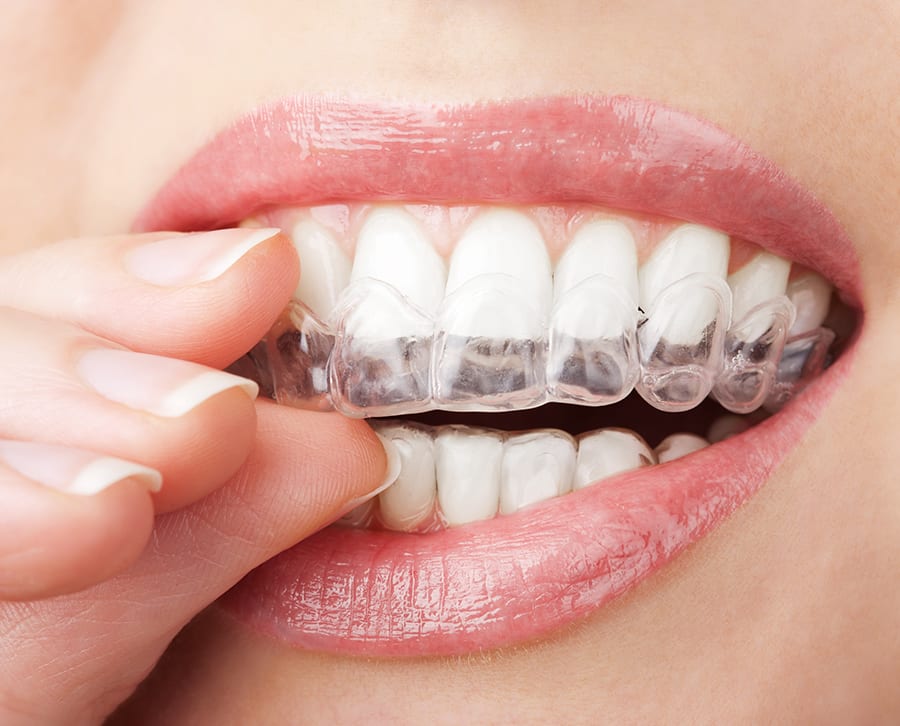 By now, you probably know a little about clear braces. Since 1999, patients have had the option to choose this product instead of traditional orthodontia. But you may not know how it is carried out. When you visit Schmitt Dental for an orthodontic consultation, we will evaluate whether our clear aligner straightening system is the best solution for you. If clear braces are suitable, we will make molds of your teeth and oral structures that will be used to develop a treatment plan in conjunction with Align Technology's laboratory. The laboratory will then create your series of custom-made, removable clear plastic aligners.
Benefits of Invisible Braces
The most obvious benefit is the invisibility of Invisalign. You won't have to worry that you appear unprofessional due to metal braces. Most people will not even be aware that you are straightening your teeth until the process is completed.
Comfort. Metal braces can irritate and even abrade soft oral tissues. Clear aligners are made of smooth plastic that will not snag your lips or cheek tissue.
Another benefit is the lack of dietary restrictions. Because the aligners can be damaged by foods, you will be instructed to remove them before eating. This results in the ability to eat your favorite foods as usual.
Oral hygiene is not compromised. Removal of the appliance allows you to brush and floss your teeth as you always have, reducing the risk of orthodontia related tooth decay dramatically and less visits to your dentist in Clarksville TN.
Because you will simply be switching to a new aligner every two weeks or so, you will avoid lengthy adjustment appointments that are required with traditional orthodontia.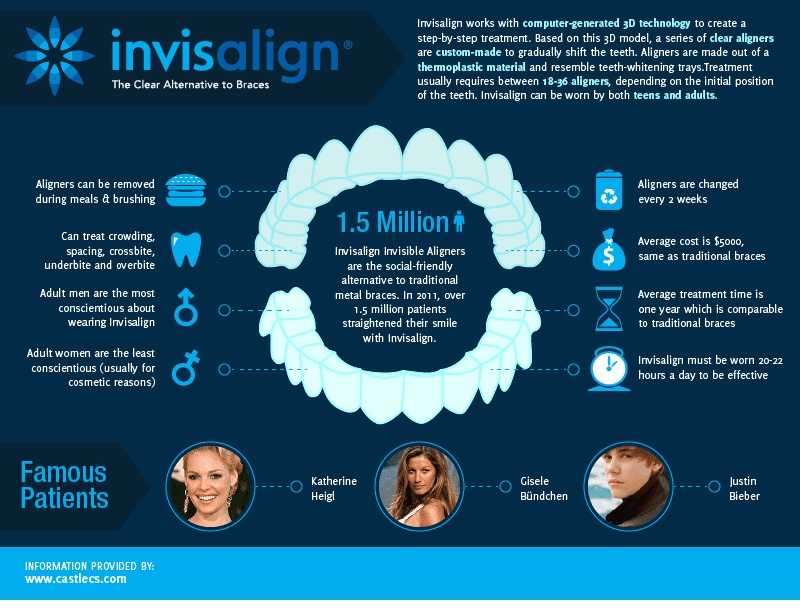 Though this is a very effective treatment for many patients, like any medical or dental procedure, it has limitations. If you are a good candidate for this procedure, your treatment time may range from 12 to 24 months. When you receive your aligners, you will be instructed as to their use and when to progress to the next aligner in the series. When you finish with one aligner, keep it safely stored with the rest. In some instances, it is necessary to return to a previously used aligner. You should also always carry a protective case with you so that you have a safe place to store your aligner when you remove it to eat. Additionally, it's important to know which products (such as mouthwash) or beverages may result in staining your aligner. You don't want to turn your supposedly clear aligner a strange color, you're trying to avoid having it noticed! Dr. Schmitt or Dr. Engle will be able to advise you on the right type of cleaning preparation to use to keep your aligners clean and clear.
Make the Clear Choice Today!
You can learn more about Align Technology's clear braces here. Call Schmitt Dental at (931) 647-3960 or (931) 552-7745 to make an appointment for your consultation today! We'd love to see a big, beautiful smile on your face.