Schmitt Dental offers dental implants in Smyrna, TN, Mt. Juliet, TN and the Rudolphtown location in Clarksville, TN.
While there are a number of reasons a person can be missing a tooth, there is one preferred way to replace it — with a dental implant. We place dental implants to replace missing teeth and to anchor full and partial dentures at Schmitt Dental.
What Is A Dental Implant?
The name dental implant comes from its anchor, the implant. This screw-shaped piece of titanium is screwed down into the socket formerly occupied by the tooth root. Once in place, the jawbone accepts and grows around the implant, making it a part of the jaw. From there, a post is attached to the implant and an artificial tooth is attached to the post. Now the full implant functions, looks, and feels just like a natural tooth.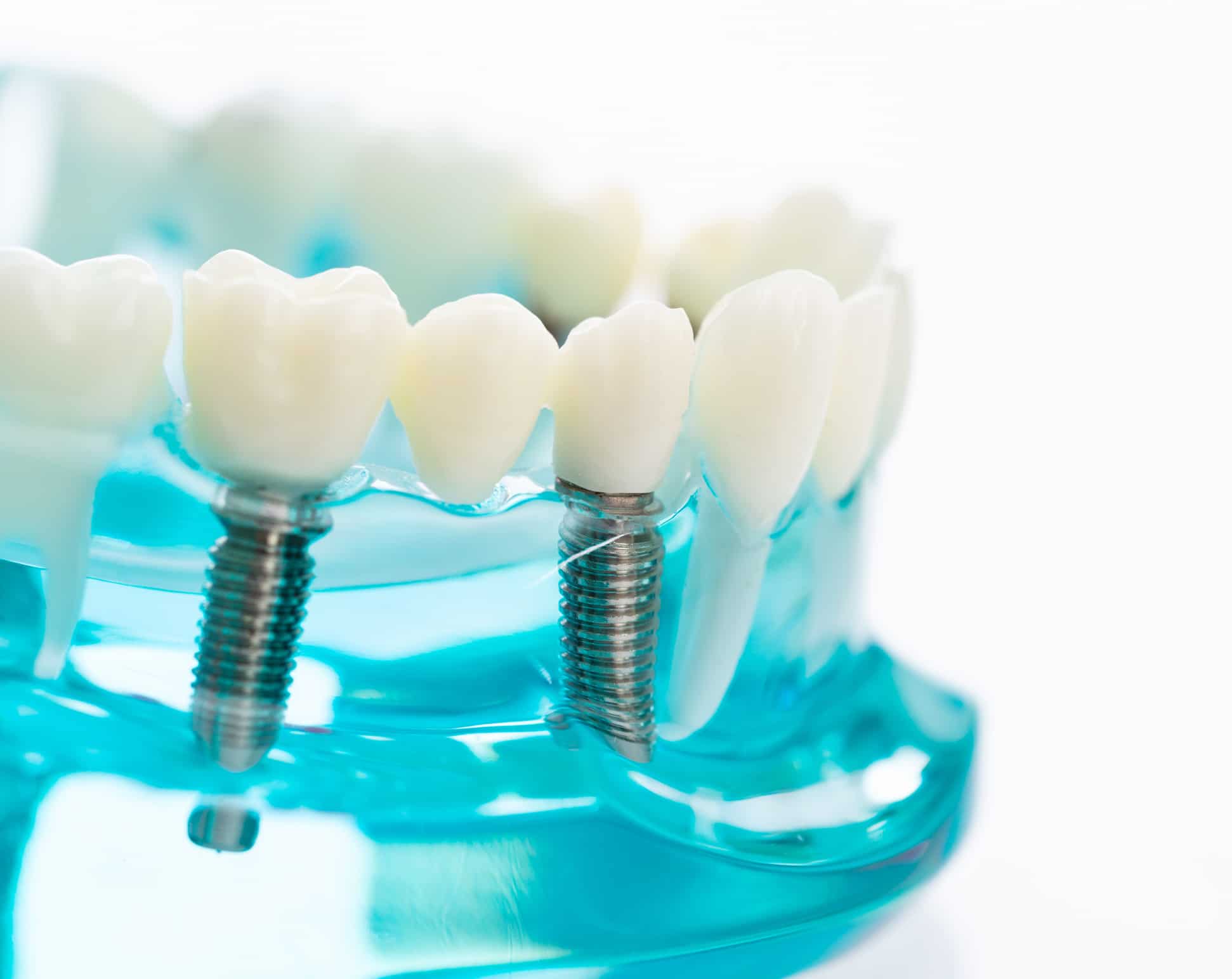 Why Dental Implants Are Essential
People can mistakenly think a missing tooth is no big deal. Whether it was lost to trauma or excessive decay, leaving a gap where a natural tooth formerly was is a bad idea for a number of reasons:
Alignment — The teeth surrounding the missing tooth or teeth no longer have pressure on them to stay in place, so they slide over into the gap. This movement can change your bite and overall alignment.
Jawbone Deterioration — When you chew or bite, a large amount of bite force energy is produced. This energy transfers through the tooth down into the jawbone beneath it. When the jawbone receives this energy, it is a signal to shed old bone cells and replace them with new cells. This is how the jawbone stays strong and dense. When a tooth is missing, that energy doesn't enter the jawbone and it begins to deteriorate. Over time, this leads to a sunken appearance in the area as the jawbone collapses inward.
Nutrition — A missing molar can keep a person from eating certain foods, due to the difficulty in chewing them. This can lead to nutritional issues.
Cosmetic Reasons — Missing teeth can create whistling sounds when speaking. If the missing tooth is easily visible, it can make the person avoid smiling.
Who Is The Ideal Candidate For A Dental Implant?
Basically, any adult of any age can benefit by replacing a missing tooth with a dental implant. Implants are the strongest, longest lasting dental prostheses.
Some people may need to build up their jawbone first, however. This is because for a dental implant to be successful there needs to be sufficient jawbone mass to hold the implant. If a person has been missing a tooth or a few teeth for some time, the jawbone may have deteriorated (the process as described above) and lost mass. In these cases, Dr. Schmitt may first have to perform some bone grafting to build up the jawbone in the area of the implant. Once the bone has been fortified, it can then hold the implant.
Read what our patients are saying!
An amazing visit as always! 🙂 The office is always clean and everyone is so welcoming and super sweet! I've never felt so comfortable at a dentist before and would highly recommend anyone! Loved my hygienist! Super sweet as always and always remembers me! 🙂 she explained everything to me and I left with no questions or concerns! I'm looking forward to coming back in 6 months for another great visit!
Click here to read more reviews.
Will A Dental Implant Look Natural?
At Schmitt Dental, we use only dental porcelain for our crowns and veneers. This is because porcelain resembles the translucence of natural tooth enamel; the way it absorbs and reflects light is nearly identical. That makes porcelain dental prostheses the most natural looking, enduring options for restorations. The artificial tooth that is attached to the post in an implant (technically called a crown) is made of dental porcelain. It will look completely natural; people won't know anything except that you have a beautiful smile.
Receiving Dental Implants At Schmitt Dental
Although you may hear claims of "implants in a day" and such, the process of getting an implant is not immediate. This is because the titanium implant base needs to be screwed into the jawbone and the jawbone then needs to grow around it. This takes time, and there isn't any way around that.
This is how we place dental implants at Schmitt Dental. The process involves four distinct steps: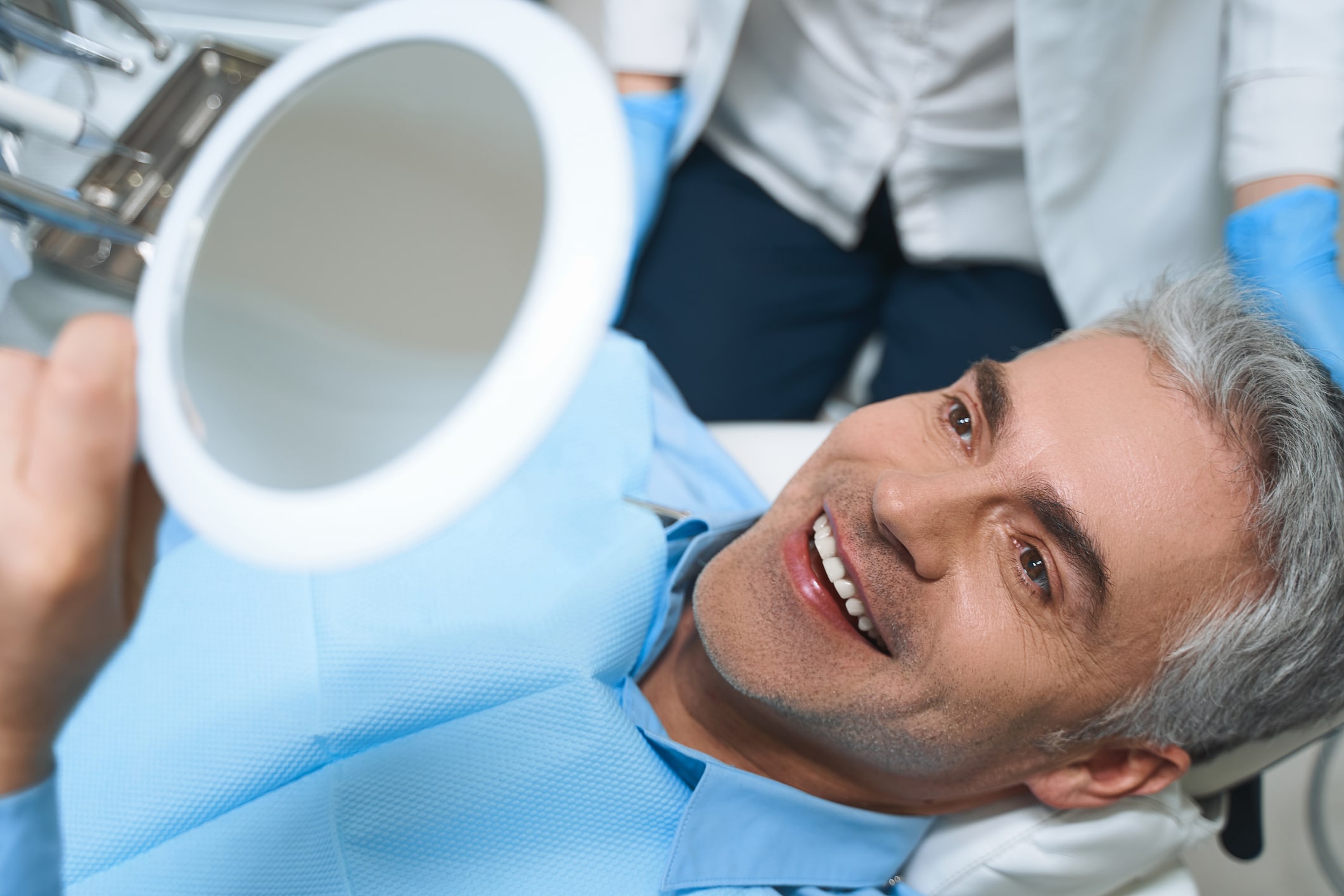 Implant Placement — Dr. Schmitt first anesthetizes you. Then he exposes the jawbone. If needed, he drills a tiny hole into the socket that held the former tooth root. Now the titanium implant is screwed down into the socket. The tiny incision in the gums is closed with sutures.
Osseointegration — The second step is what separates implants from other replacement options. Once the implant is placed, the jawbone is allowed to grow around the implant, making it part of the jaw. This process, called osseointegration, takes from three to six months.
Attaching The Post — Once your jawbone has integrated the implant you return and we attach a post, called an abutment, to the implant. Now it's time for your gums to heal for approximately six more weeks.
Attaching the false tooth — When your gums have healed, you're ready to have the crown (false tooth) attached to the post. Your artificial tooth will beautifully match your surrounding teeth and provide unparalleled strength and durability. Once we attach the crown, you can go out and immediately enjoy your new tooth.
Is The Implant Procedure Painful?
Getting a dental implant is a process. There will be periods of recovery where Dr. Schmitt has to make a small incision in your gums to access the jawbone, both when first placing the implant and when later attaching the post. These will involve eating a soft diet for a few days as your gums heal. But the pain is not anything that can't be handled with over-the-counter pain medication. Beyond those instances, the implant process is not a painful one.
What To Expect During Recovery
Once your jawbone has integrated the titanium implant we then attach the post to the implant. After allowing your gums to heal fully, we then attach the artificial tooth to the post. Now your dental implant is a part of your jaw and your bite for the duration. You can go out and eat whatever you like with it as soon as you leave our Clarksville offices.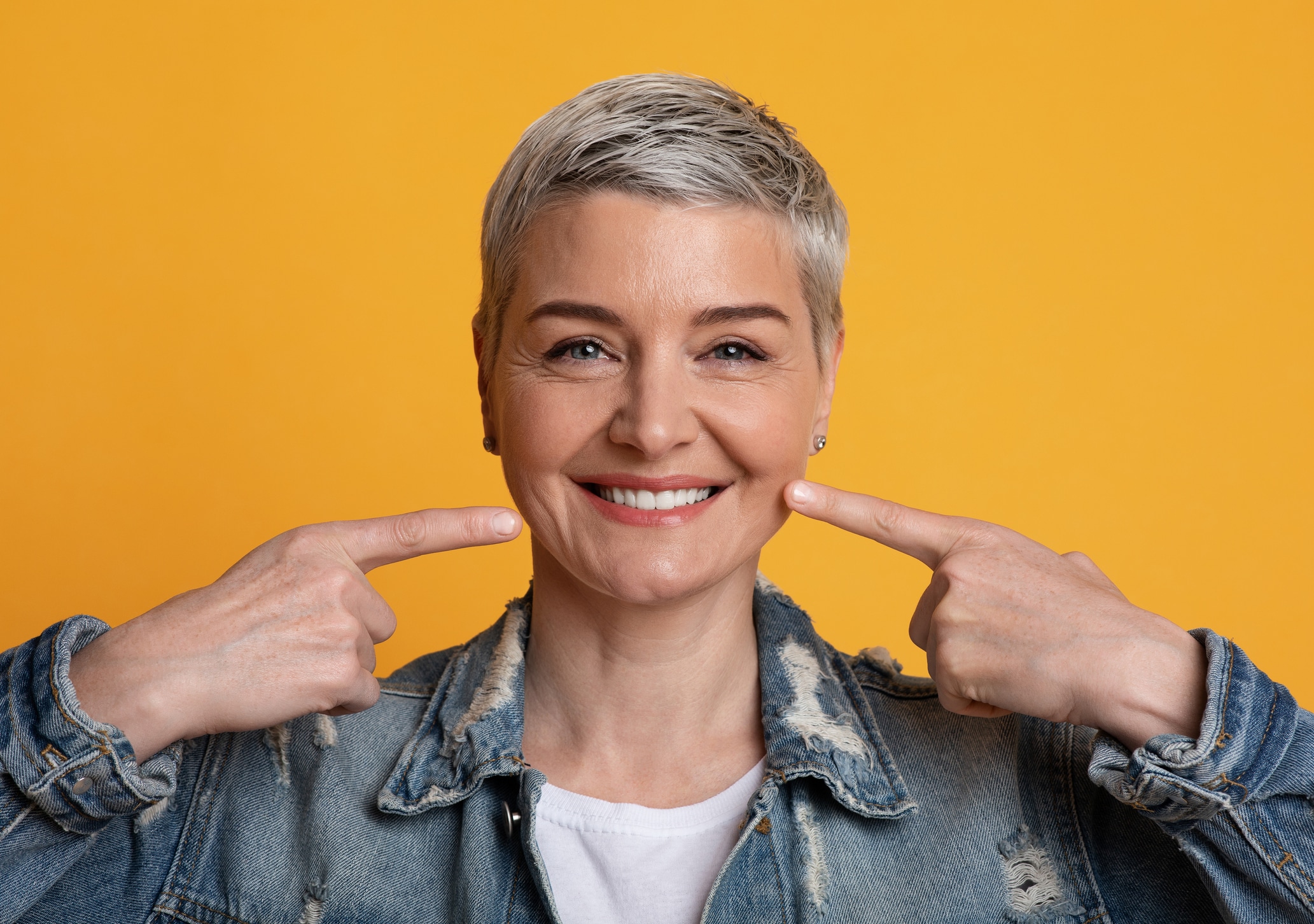 How Long Dental Implants Last
There is no contest as to which dental prosthetic is the longest lasting — dental implants. Properly placed implants last for decades. In many cases, the implant will last for the remainder of the patient's life.
How Do You Care For Dental Implants?
Just as a dental implant functions and feels exactly like a natural tooth, the hygiene you provide is also identical — twice-daily brushing and flossing are all that is required.
What Problems Can A Dental Implant Fix?
Of course, the main purpose of a dental implant is to provide a replacement for a missing tooth. But Dr. Schmitt also uses implants as anchors for full and partial dentures. For full dentures, usually, four implants are placed on both arches. The full dentures then snap onto the implants. This ensures that the dentures won't slip. It gives the denture wearer much more confidence when eating and talking. Also, the areas where the implants are located will again transfer bite energy down into the jawbone beneath, helping it avoid the deterioration that is endemic to most full denture wearers.
If you're missing a number of teeth or even all of your teeth on an arch, dental implants may not be realistic financially for replacing all of the missing teeth. In these situations, implant-supported dentures are a great option combining both dentures and implants.
Schedule Your Consultation For Dental Implants In Sango, TN