Clarksville, TN Custom Dental Solutions From Sleep Apnea Treatments To Custom Athletic Mouth Guards
At Schmitt Dental, we offer many custom dental solutions for your dental needs. Whether you suffer from sleep apnea, have a TMJ disorder or need a custom athletic mouthguard for your son who plays football, we have a custom solution just for you!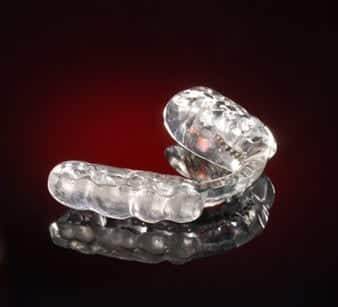 Custom Athletic Mouthguards
The National Youth Sports Foundation for the Prevention of Athletic Injuries, Inc. reports several interesting statistics. Dental injuries are the most common type or orofacial injury sustained during participation in sports. Victims of total tooth avulsions (tooth loss due to trauma) who do not have teeth properly protected, preserved or replanted may face lifetime dental costs of $10,000 – $15,000 per tooth, hours in the dentist's chair, and the possible development of other dental problems such as periodontal disease.
What Is The Purpose Of Custom Mouthguards?
It is estimated that mouthguards prevent approximately 200,000 injuries each year in high school and collegiate football alone. A properly fitted mouthguard must be protective, comfortable, resilient, tear-resistant, odorless, tasteless, not bulky, cause minimal interference speaking and breathing, and (possibly the most important criteria) have excellent retention, fit, and sufficient thickness in critical areas. ( C. "Types of Athletic Mouthguards" Sports Dentistry, n.d. Web. 3 Mar. 2014.)
How Effective Are Custom Mouthguards?
Custom made athletic mouthguards are supplied by a dentist and are the most beneficial of all types of mouth protectors available because they are the only mouthguards that meet the above criteria. Custom athletic mouthguards are THE safest way to protect your teeth.
What People Say About Us!
An amazing visit as always! 🙂 The office is always clean and everyone is so welcoming and super sweet! I've never felt so comfortable at a dentist before and would highly recommend anyone! Loved my hygienist! Super sweet as always and always remembers me! 🙂 she explained everything to me and I left with no questions or concerns! I'm looking forward to coming back in 6 months for another great visit!
Click here to read more reviews.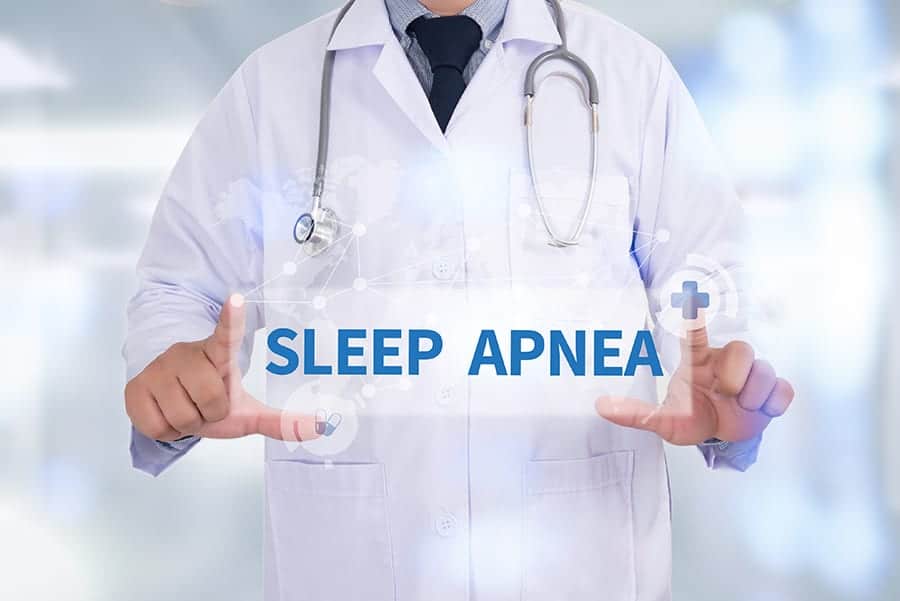 If you've been experiencing insomnia, restless sleep, frequent trips to the bathroom in the night, problems concentrating, chronic fatigue, night sweats and/or loud snoring, you could be suffering from sleep apnea.
Sleep Apnea is a common and serious disorder that occurs when breathing is interrupted during sleep. People with untreated sleep apnea stop breathing repeatedly during their sleep, sometimes hundreds of times in a single night. This means the brain, and the rest of the body, may not be getting enough oxygen. If left untreated, sleep apnea can result in: high blood pressure, stroke, heart failure, irregular heartbeats, heart attacks, diabetes, depression, worsening ADHAD, and overall poor performance in everyday activities.
What Causes Obstructive Sleep Apnea?
Obstructive sleep apnea is the most common form of sleep apnea and is caused by a blockage in the airway, usually when the soft tissue in the back of the throat collapses during sleep. The good news is that sleep apnea can be treated right here at Schmitt Dental! We offer custom fitted appliances designed to keep your oral structures in place and your airway clear so you (and your spouse) can sleep comfortably. Come to see us, we'd love to help!
Candidate For Sleep Apnea Treatment
Are You, Or Someone You Love, Experiencing: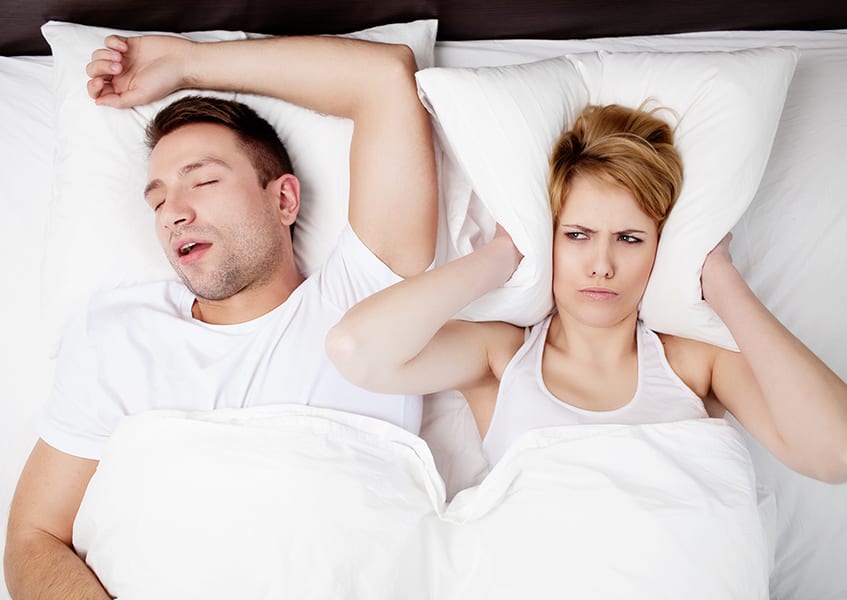 Insomnia?
Restless Sleep?
Frequent Trips to the Bathroom at Night?
Problems Concentrating?
Chronic Fatigue?
Night Sweats?
Loud Snoring?
You may be suffering from obstructive sleep apnea. Obstructive sleep apnea is the most common form of apnea and, according to the National Heart, Lung, and Blood Institute, more than 12 million people in the U.S. have it.
Mouthguards for Teeth Grinding and TMJ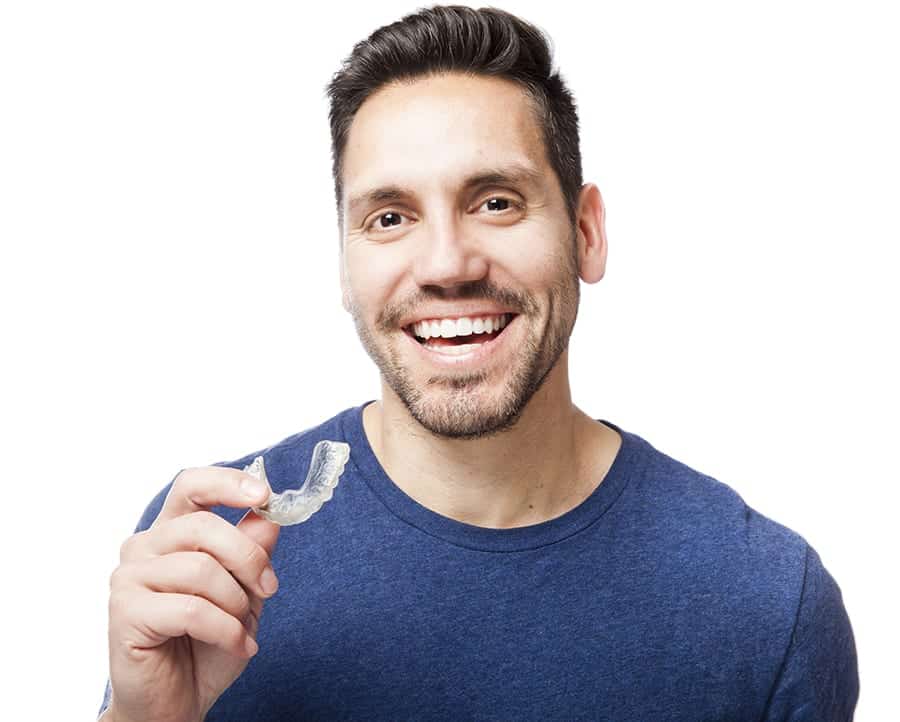 Bruxism (teeth grinding) and TMJ disorder are different issues, but can be related to each other and are often treated together.
Bruxism occurs when you grind your teeth unconsciously, usually at night.
When left untreated, bruxism can cause abnormal wear and damage to teeth, tension or discomfort in the jaw, earaches, tooth sensitivity and even tooth loss, and can lead to misalignment of the lower jaw joint (TMJ). Conversely, TMJ (misalignment of the lower jaw joint) can cause tooth grinding.
Bruxism Treatment With Mouthguards
Most of the time, these issues are simple to resolve by using a custom mouthguard or dental splint to protect the teeth. We can easily diagnose either of these issues in our office so schedule your dental care check-up now!
Schedule Your Consultation Today
If you're interested in learning more about custom dental solutions and treatments please contact us for a consultation. We will discuss your needs and concerns, and determine your best course of action.