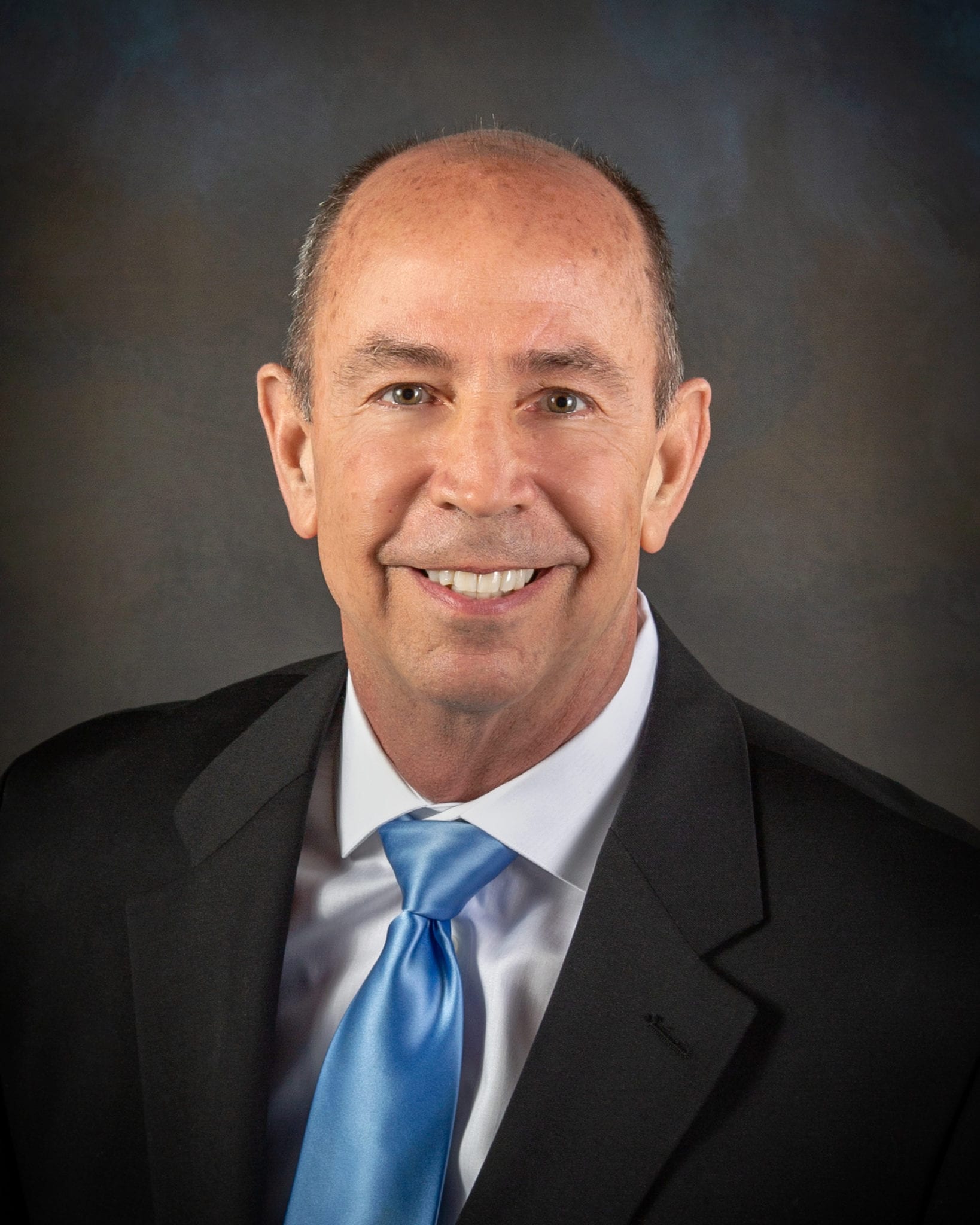 Dr. Schmitt chose to follow the example established by his late father and entered the dental profession after obtaining his Doctor of Dental Medicine degree from the University of Louisville in 1985. His undergraduate degree came from U of L as well, while he was a diver on the swim team.
He owned a private practice for more than 23 years in Louisville, KY and thoroughly enjoyed the relationships he built there over the years. After selling his practice in Louisville, he most recently practiced in Savannah, GA for 2 years.
He came to Clarksville in 2013 and acquired the practice of Dr. Blevins at 1692 Ft Campbell Blvd. He most recently acquired his second dentist office location at 2313 Rudolphtown Road in August of 2017. He is now a fully integrated part of the Clarksville community. Dr. Steve is an avid U of L Cardinals sports fan, attending as many games as possible, and he also enjoys boating, hunting, and traveling. He has two children; Abbey who lives in Louisville with his Grand-daughter Gracie, and a son Brad who lives in Tallahassee Florida.
Dr. Schmitt has dedicated his professional life to providing the highest level of care to his patients, placing a strong emphasis on getting to know each patient as an individual, believing the key to a successful doctor-patient relationship is genuine interest in and understanding of their needs. He believes the patients under his care deserve a thorough and careful evaluation, as well as complete understanding of their options.
He is a firm believer in "more than the minimum" in continued learning, having taken hundreds of hours of advanced training in dentistry, studying with many of the leading authorities in the dental profession. This commitment to learning and providing the most up-to-date methods have made him a much sought-after provider of cosmetic, restorative and sedation dentistry. His goal is to provide you the best dental care possible in a comfortable setting as a dentist in Clarksville, TN.
Available in Location: Fort Campbell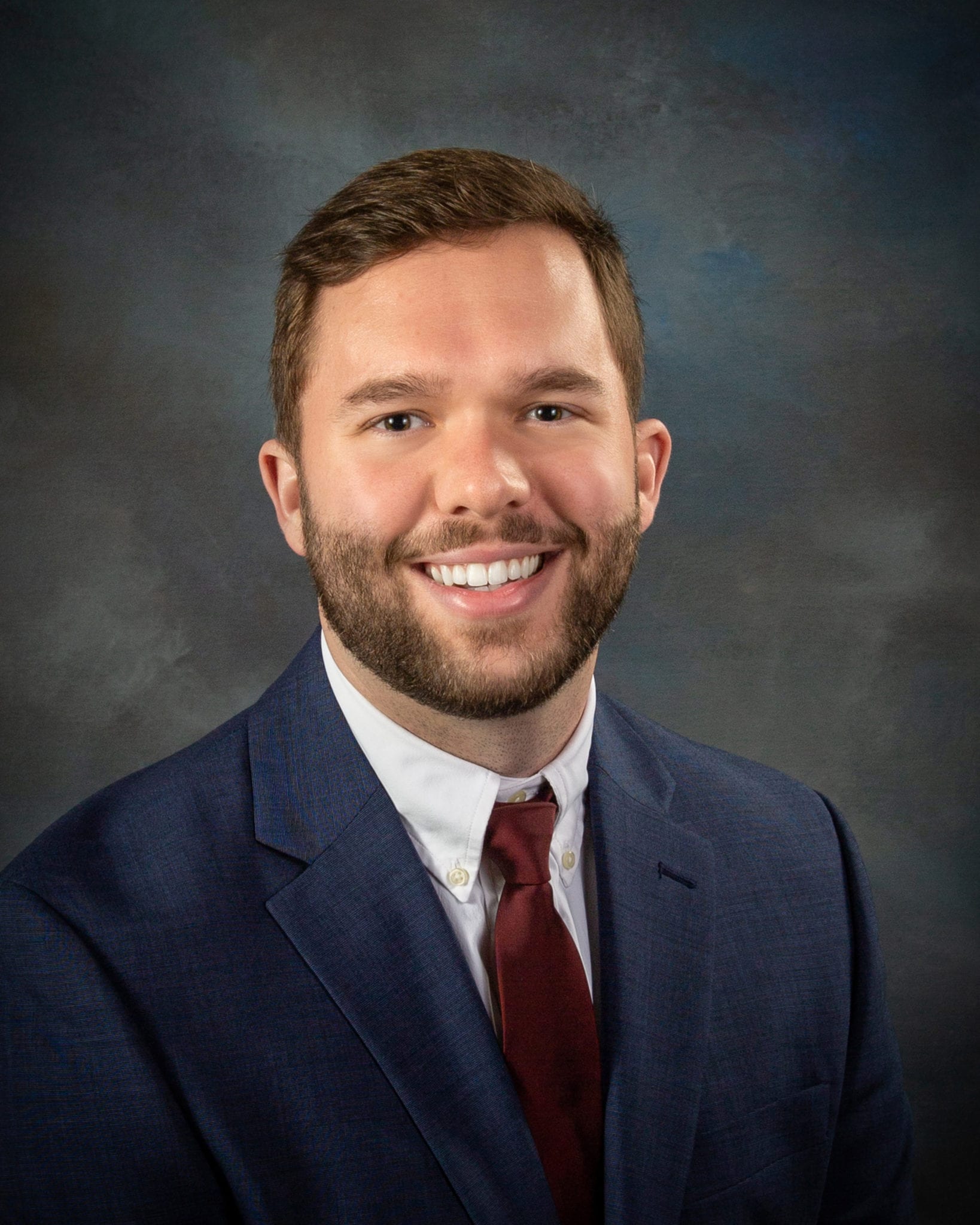 Dr. Bryan is a native of Clarksville, TN and is proud to be working in his hometown as a member of Schmitt Dental. He comes from an animal-loving household and has two dogs (Callie and Flechas) with his wife, Laura. Dr. Bryan went to Vanderbilt University where he studied Molecular and Cellular Biology prior to attending the University of Louisville School of Dentistry. Following his dental education, Dr. Bryan moved back to middle Tennessee and lived in the Murfreesboro area before returning to Clarksville. His hobbies include running, racquetball, and researching just about anything automotive. Most weekends are spent exploring Nashville with his wife, often taking their dogs for long walks around The Parthenon and Bicentennial Park.
Dr. Bryan is an active member of the American Dental Association and the Academy of General Dentistry. Additionally, he is a regular volunteer at the Interfaith Dental Clinic in Nashville. Dr Bryan graduated with honors from the UofL School of Dentistry with academic distinction in Microbiology and Biochemistry.
As a patient of Schmitt Dental at Rudolphtown, you can expect to be treated with respect and empathy. Dr Bryan wants each patient to feel at home in this office and questions and discussion are always welcome. Dentistry does not need to feel intimidating or daunting, and we make it our personal goal to ensure that our patients leave satisfied with their experience and confident that they have received the gentle care they deserve.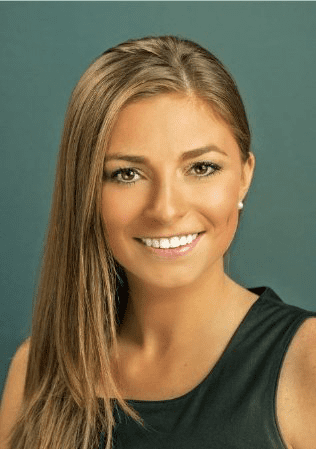 We are excited to announce that Dr. Haley E. Schmitt has recently joined Schmitt Dental in Brentwood, after relocating from Tallahassee, Florida.
Although she is joining us from the sunshine state, Dr. Schmitt is originally from Cape Cod, Massachusetts and has always loved being close to the water. Dr. Schmitt received her Bachelor of Science degree at the College of Charleston, before going on to graduate Magnum Cum Laude from the University of Maryland School of Dentistry where she earned her Doctor of Dental Surgery Degree.
During her time at Maryland she was honored with inductions into Omicron Kappa Upsilon National Dental Honor Society, Gorgas Odontologic Honor Society, and Gamma Pi Delta Prosthodontic Honor Society. She also received awards for outstanding achievement in the field of endodontics and leadership in the field of dentistry. After dental school, Dr. Schmitt went on to complete a General Practice Residency at the Washington, DC VA Medical Center where she received advanced training in implants, prosthodontics, endodontics, and surgery. During this time she further enhanced her knowledge and skills by working closely with specialists from all disciplines. Following residency, Dr. Schmitt joined a private group practice in Northern Virginia where she spent several years practicing dentistry and was recognized as one of Northern Virginia's 40 under 40. While in our nation's capital Dr. Schmitt met her husband, Brad, whose career brought them to Tallahassee, where Dr. Schmitt has been in a private group practice. Although they have enjoyed their time in Tallahassee, Dr. Schmitt and her husband are excited to move closer to family and make Nashville their permanent home.
Dr. Schmitt truly cares about her patients and strongly values being able to provide the highest quality of care possible. She places a high priority on continuing education and is currently working towards achieving Fellowship status in the Academy of General Dentistry. She also has a strong passion for community service, volunteering with several organizations and participating in dental mission trips to places as far away as the Philippines. Outside of the dental office, Dr. Schmitt enjoys traveling, cooking, and spending time with her family, friends and two dogs, Finley and Louie.
Memberships & Affiliations:
American Dental Association
Academy of General Dentistry
The Dawson Academy
The Spears Institute
The Crown Council
Omicron Kappa Upsilon National Dental Honor Society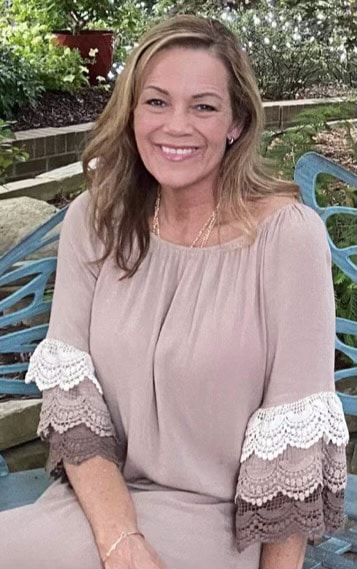 We are excited to announce that Dr. Sanders t has recently joined Schmitt Dental in the Goodlettsville office.
Dr. Sanders is an Eastern Kentucky native of pike county. She did her undergraduate pre-dental studies at Morehead State University in North Central Kentucky, graduating with a Bachelor of Science and minor in English Literature. Dr. University of Ky College of Dentistry in Lexington Ky, graduating May 11, 2001, with her Doctorate of Dental Medicine.
Dr. Sanders practices family dentistry in Ky until 2016 until she relocated to Hendersonville Tn where she
still resides with her 3 children. She has practice corporate and family dental with a preference for the
family dental environment.
Dr. Sanders has an interest in public health and has participated and worked as an associate with UKCD
and Baptist Health Centering Program to provide expectant mothers dental treatment to help ensure a
healthy mother/ baby birth.
Dr. Sander practices and performs exams, diagnosis, and treatment options which include fillings, crowns
root canals whitening extractions dentures and partials.
Outside the dental office, Dr. Sanders enjoys spending time with her family. Visiting family and friends
and enjoying outdoor activities. Shea also loves reading, travel, and a good movie.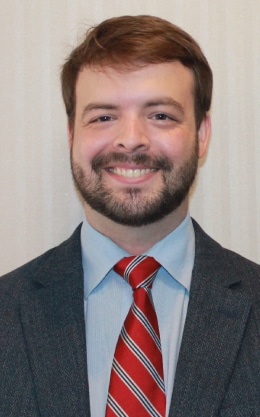 We are excited to announce that Dr. Joseph Randall has recently joined Schmitt Dental in Hendersonville.
Dr. Joseph Randall comes to us from Fort Campbell, Kentucky where he served as a General Dentist for 4 years in the US Army. Originally Dr. Randall is from Huntsville, AL. He met his wife, Abby, at the University of Alabama where he completed his Bachelor's Degree in biology. He then earned his DMD at Nova Southeastern University in Fort Lauderdale, FL in 2017 and received a full scholarship through the military with the Health Professions Scholarship Program.
.While serving in the military, he surrounded himself by highly trained mentors so that he would develop his skills in cosmetic, prosthodontic, restorative dentistry, endodontics, and oral surgery. Dr. Randall has a passion for creating a stress-free and comfortable environment from the moment the patient walks in the door. He holds himself to the highest standard of care and partners with patients to create the optimal plan for their goals and desires. In his free time he likes to spend time with his wife and daughter, travel to his family's farm in Southern Tennessee, is an avid cook, and loves to BBQ on his smoker and grill.
We are excited to announce that Dr. Corey Truman has recently joined Schmitt Dental in our Mt. Juliet location.
Dr. Corey Truman was born and raised in Kentucky, and is excited to call Tennessee home. He earned his DMD (Doctor of Medicine in Dentistry) from the University of Louisville in 2015. Dr. Truman and his wife, Elizabeth, love to spend time with their two energetic children, to experience outdoor adventures and to enjoy good food. They also have a passion for fitness. Dr. Truman's mission is to provide patients the comprehensive, conservative, and exceptional quality dental care they need in a relaxed environment.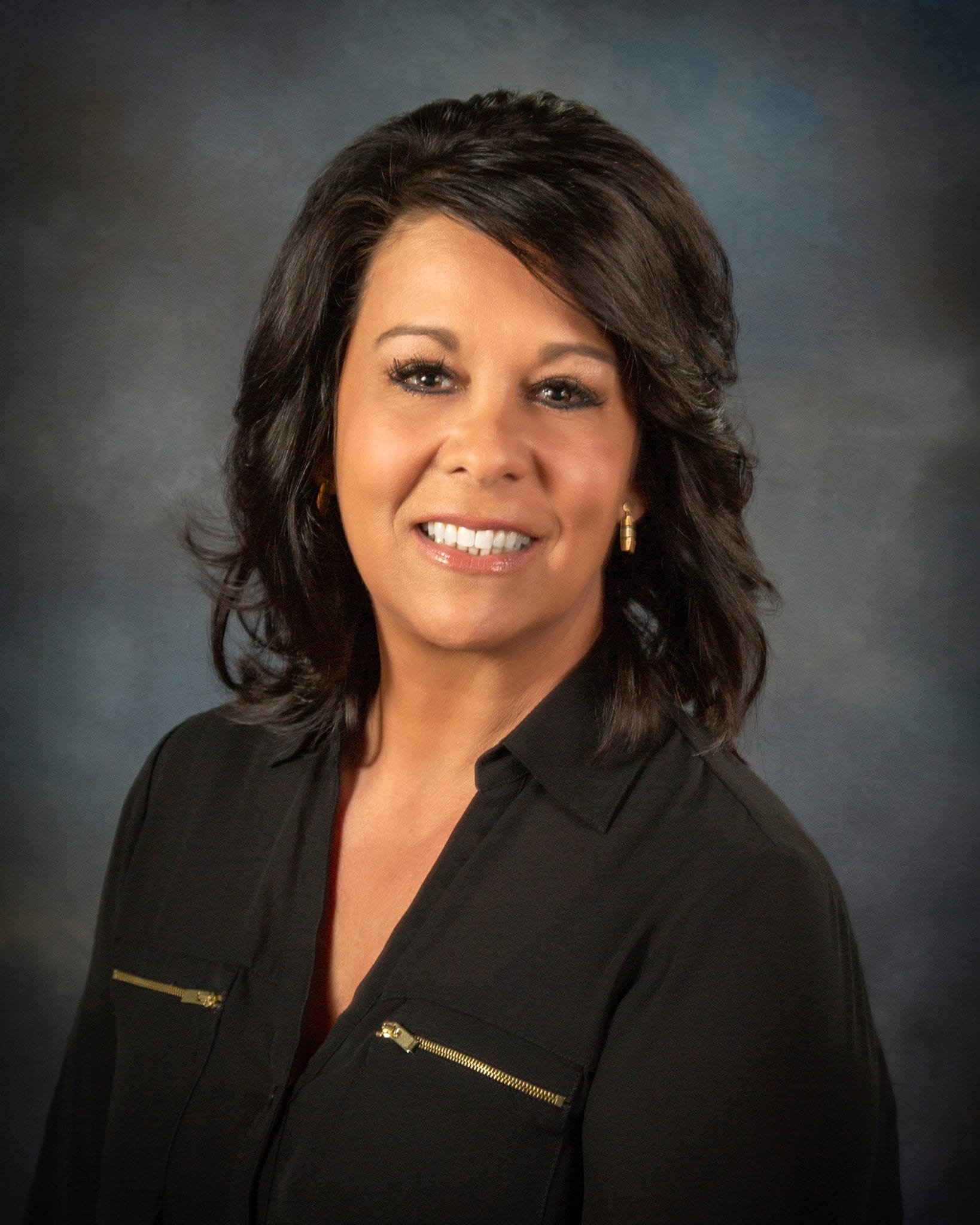 Hello, my name is Julia I was born In Cuba and lived in Spain before moving to the United States at the age of 14, I have three children and four beautiful grandkids, and two fur babies. I have over 11 years in the dental field I joined the Schmitt Dental family in 2017.
In my spare time I love spending time with my grand babies, boating , four wheeling ,traveling and watching football specially seen my favorite team the Louisville Cardinals.
Favorite Movie: Forrest Gump
Favorite Quote: "Perfection is not attainable, but if we chase perfection we can catch excellence " Vince Lombardi
Available in Location: Fort Campbell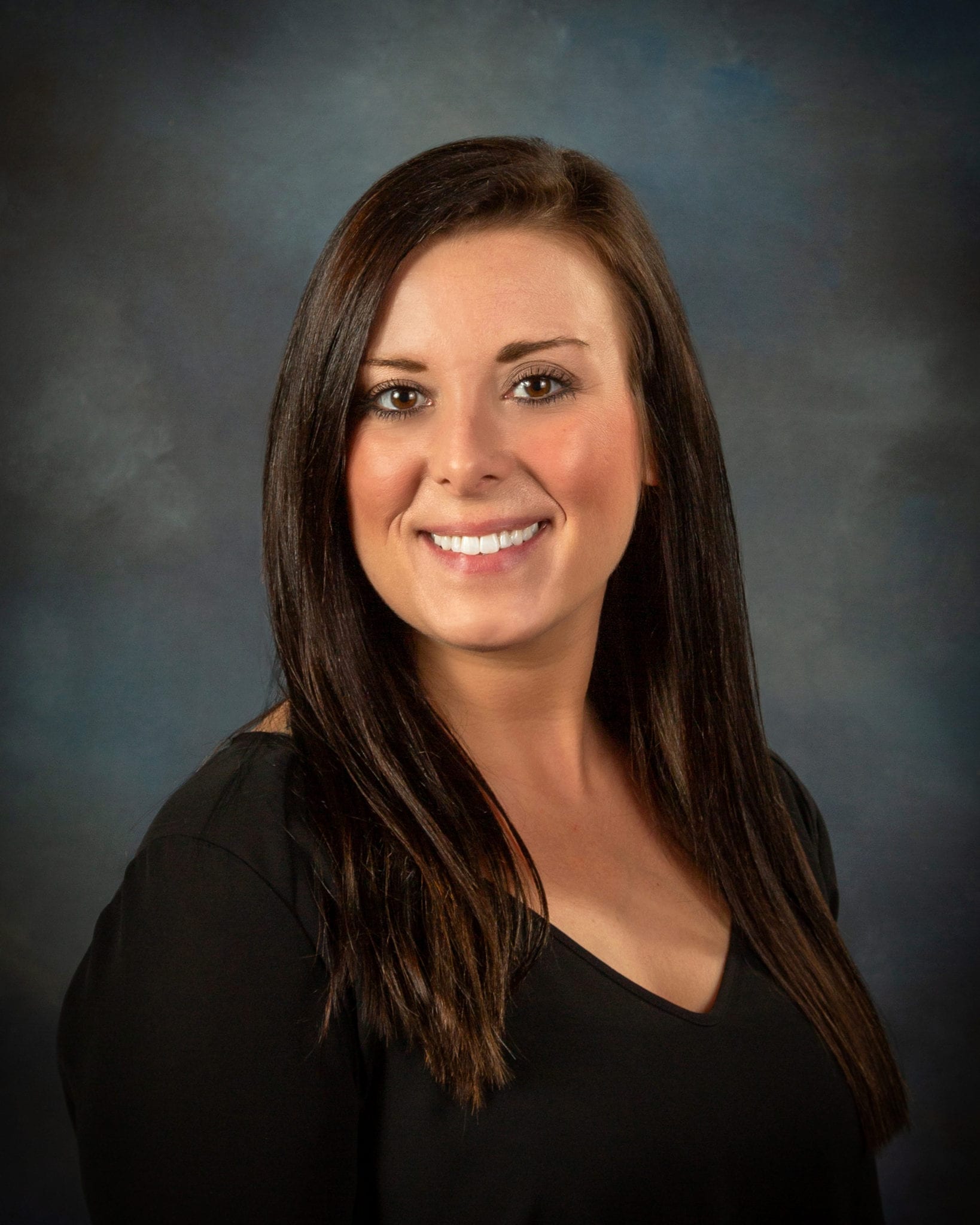 RDA/Treatment/Marketing Coordinator
My name is Krystian Tayloe, I am the office Lead at Schmitt dental at our Ft Campbell location. I have been with Dr. Schmitt for about 2 years now, and in the dental field for over 10 years. I love what I do, and especially seeing all the smiling faces that we can help daily.
I have two little boys Jayden and Keegan, and we enjoy all activities outdoors, as well, as playing with our fur babies Bruiser, Ivy, and Molly.
Favorite Movie: Little Mermaid
Favorite Quote: If you want to cross a bridge, my sweet, You've got to pa the toll." By Ursula little Mermaid 1989
Available in Location: Fort Campbell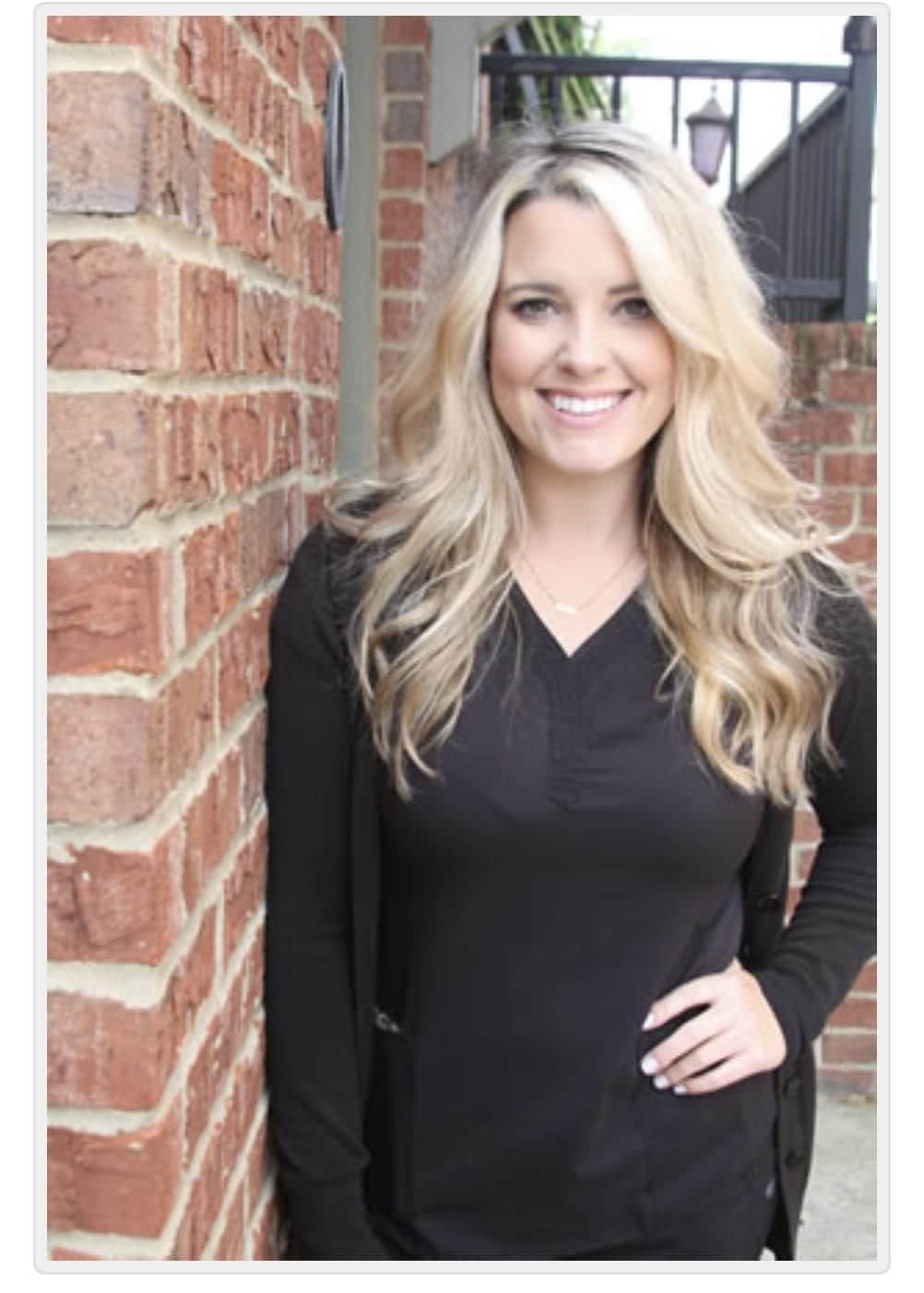 Hello, my name is Kelley and I am originally from Gilbert Arizona. I moved to Nashville 11 years ago and have been in the dental field for 6 years. I absolutely love my job and building relationships with our patients.
Outside of the office I love music, traveling, playing tennis and spending time with my son, Cameron.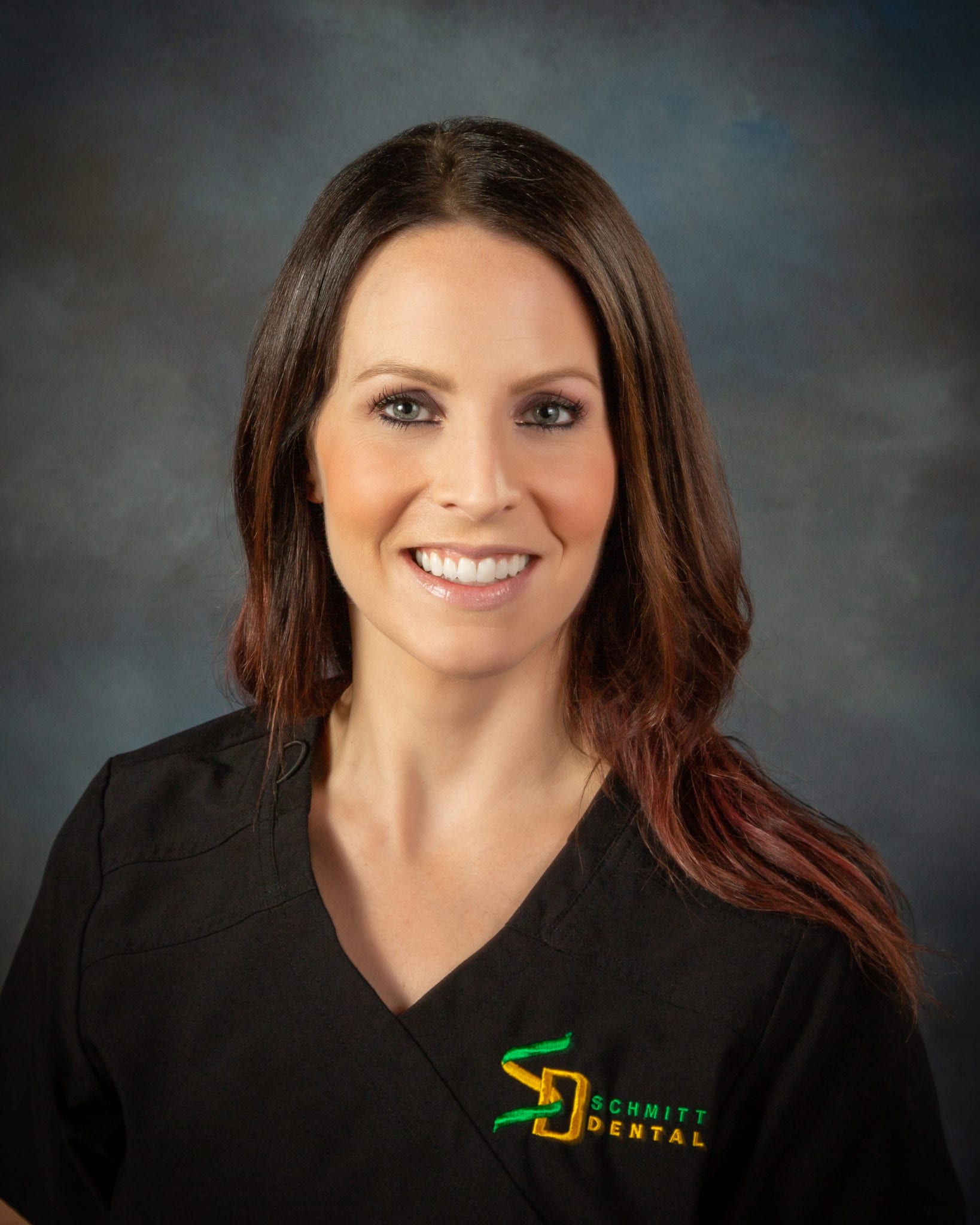 Hi, my name is Michelle Petty. I am a dental hygienist at Schmitt Dental. Originally from Ohio, my husband is military and we have been stationed here since 2011. We have two sons that keep us busy. I love being a hygienist and providing quality care to my patients. I am also a yoga teacher, so sharing kindness throughout the community is important to me.
I completed college in 2009 from FTCC in Fayetteville, NC while we were stationed at Fort Bragg.
Favorite Movie: Book of Eli
Favorite Quote: "No act of kindness, no matter how small, is ever wasted". Aesop
Available in Location: Rudolphtown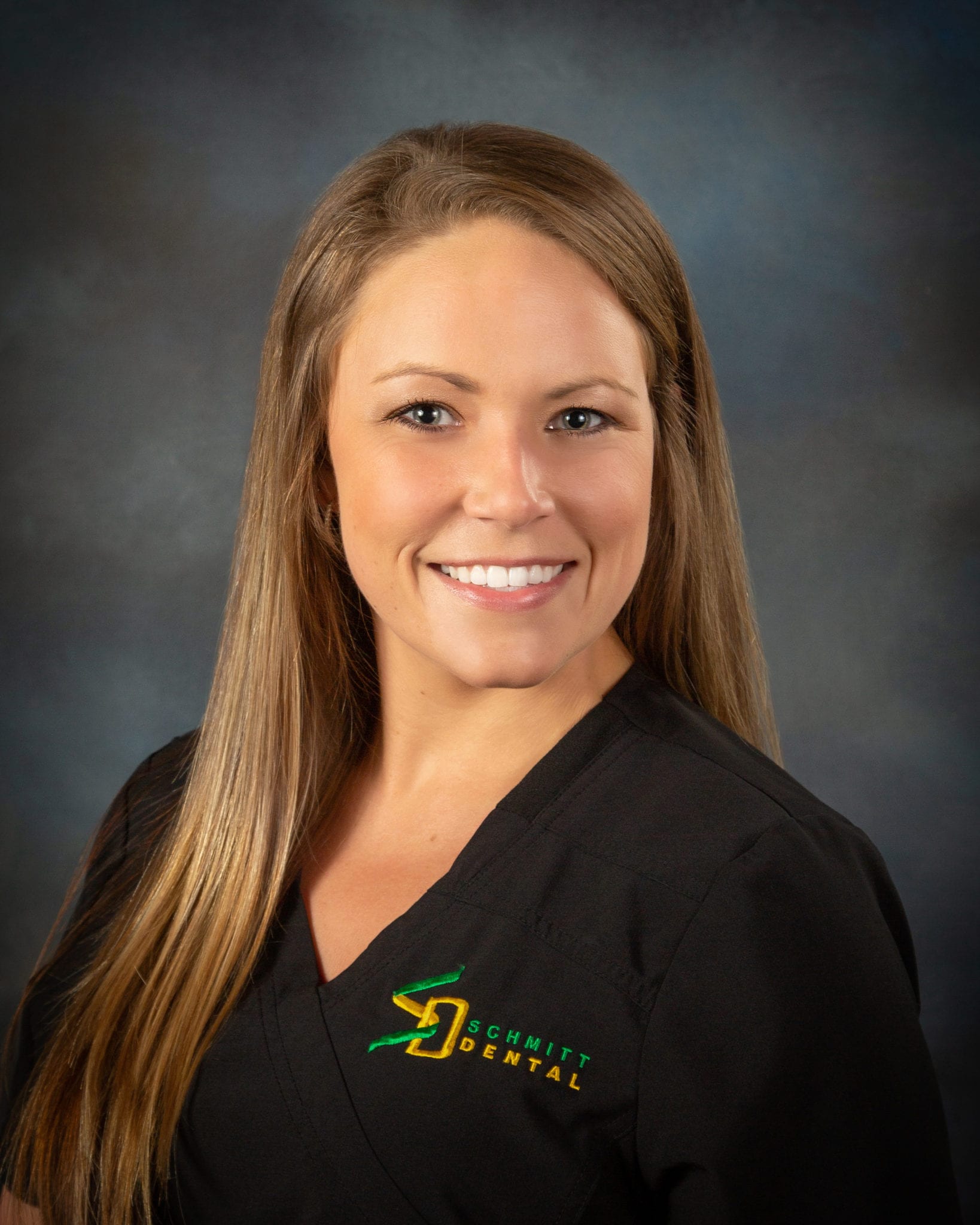 Expanded Functions Dental Assistant
Hello, my name is Lindsey I was born and raised in Clarksville, TN. I am an Expanded Functions Dental Assistant and started working in the dental field in 2012. I have been with Dr. Schmitt since 2013.
Outside of my work, my family stays busy farming and for fun, we enjoy spending time at the creek with family and friends!
Favorite Movie: Catch me if you can
Favorite Quote: "Truth is like the sun. You can shut it out for a time, but it ain't going away". Elvis Presley
Available in Location: Fort Campbell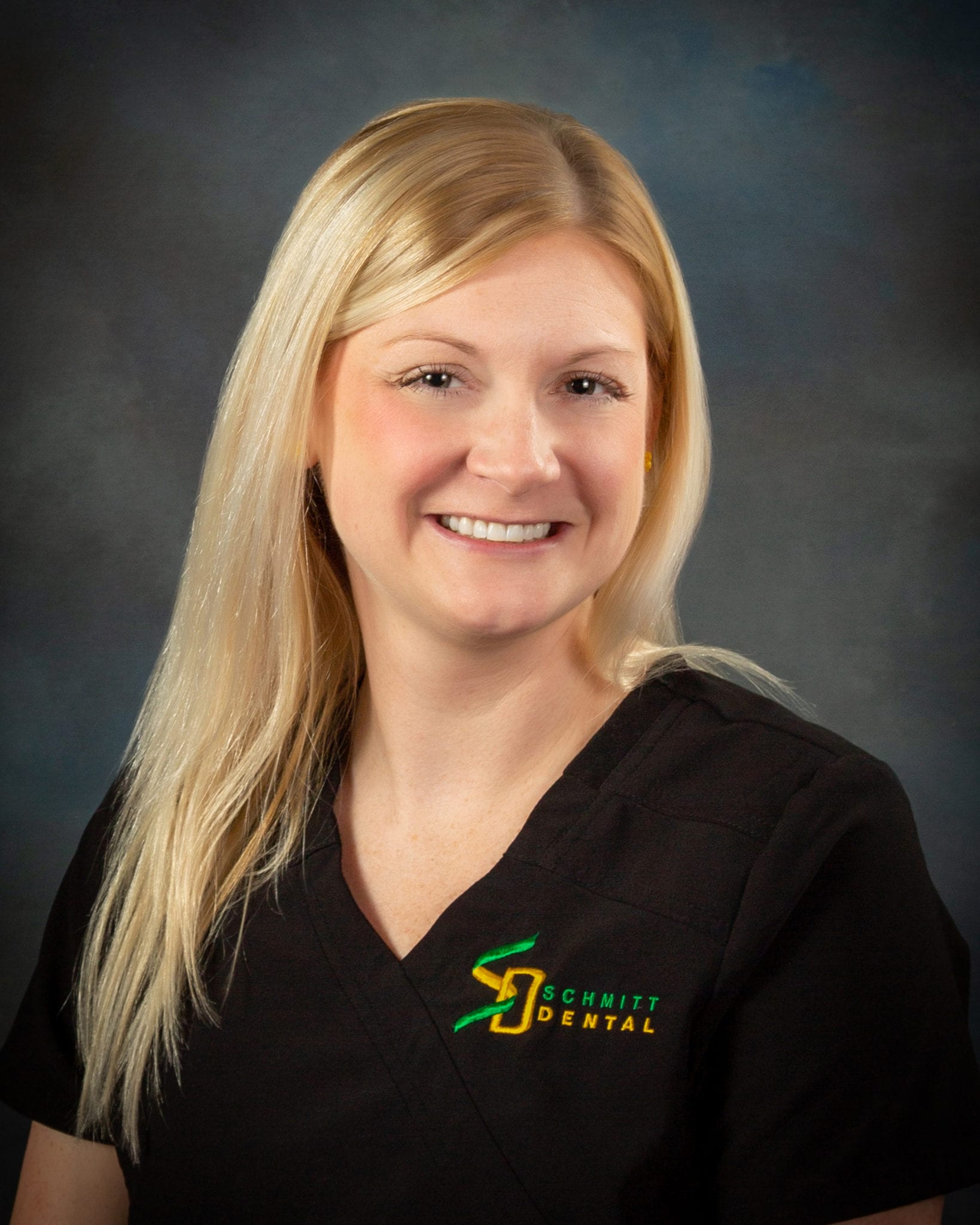 My name is Adrienne Joiner and I am a native of Clarksville Tennessee. After graduating high school, I continued my education by earning my Bachelor's Degree in Biology from Austin Peay State University in 2012. From there, I obtained my Associates in Dental Hygiene from Tennessee State University in 2015. My amazing boyfriend Shamus, who is a retired Army helicopter pilot, and I have been together for 8 years. We have 2 dogs, Dexter and Dolly and two cats. We love animals and love the outdoors. If it involves nature or getting to see all that our beautiful country has to offer, we are doing it!
I'm so glad to have finally found my home here with Schmitt Dental and look forward to developing relationships with our patients and helping them achieve their dental health goals!
Available in Location: Fort Campbell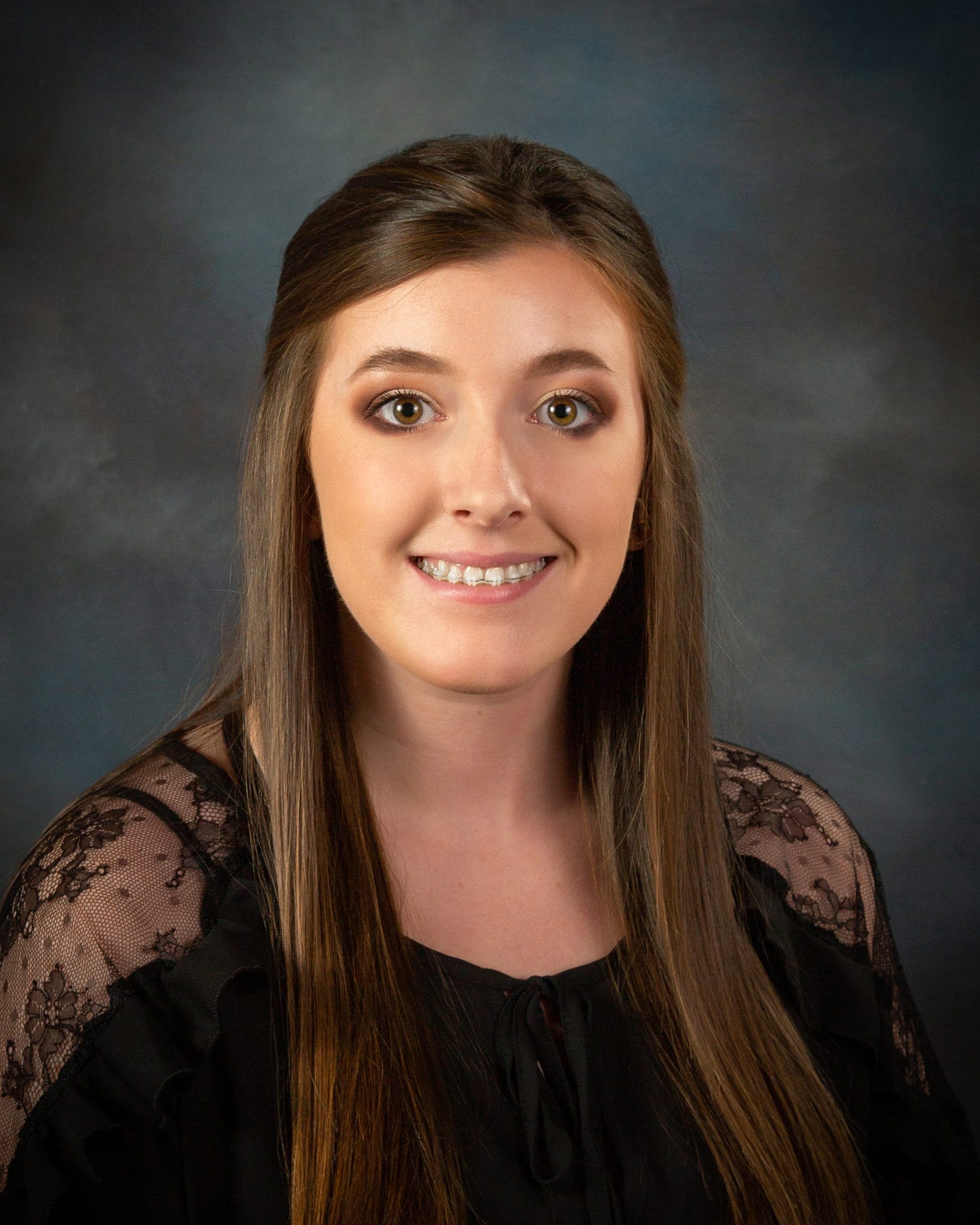 Hi, my name is Kasi! I have been in the dental field for almost 2 years now. I received my dental assisting license through Daymar College in 2018 and have been with Dr. Schmitt for a little over a year now doing insurance and treatment planning. I enjoy being able to practice chairside assisting when I'm needed to, but also enjoy the financial side of things where I get to explain insurance benefits and treatment options to our patients.
Outside of work I enjoy going to the gun range and playing with my 2 puppies!! I also love watching college football, especially the Tennessee Vols!
Favorite Movie: Beetlejuice
Favorite Quote: Let light shine out of darkness
Available in Location: Rudolphtown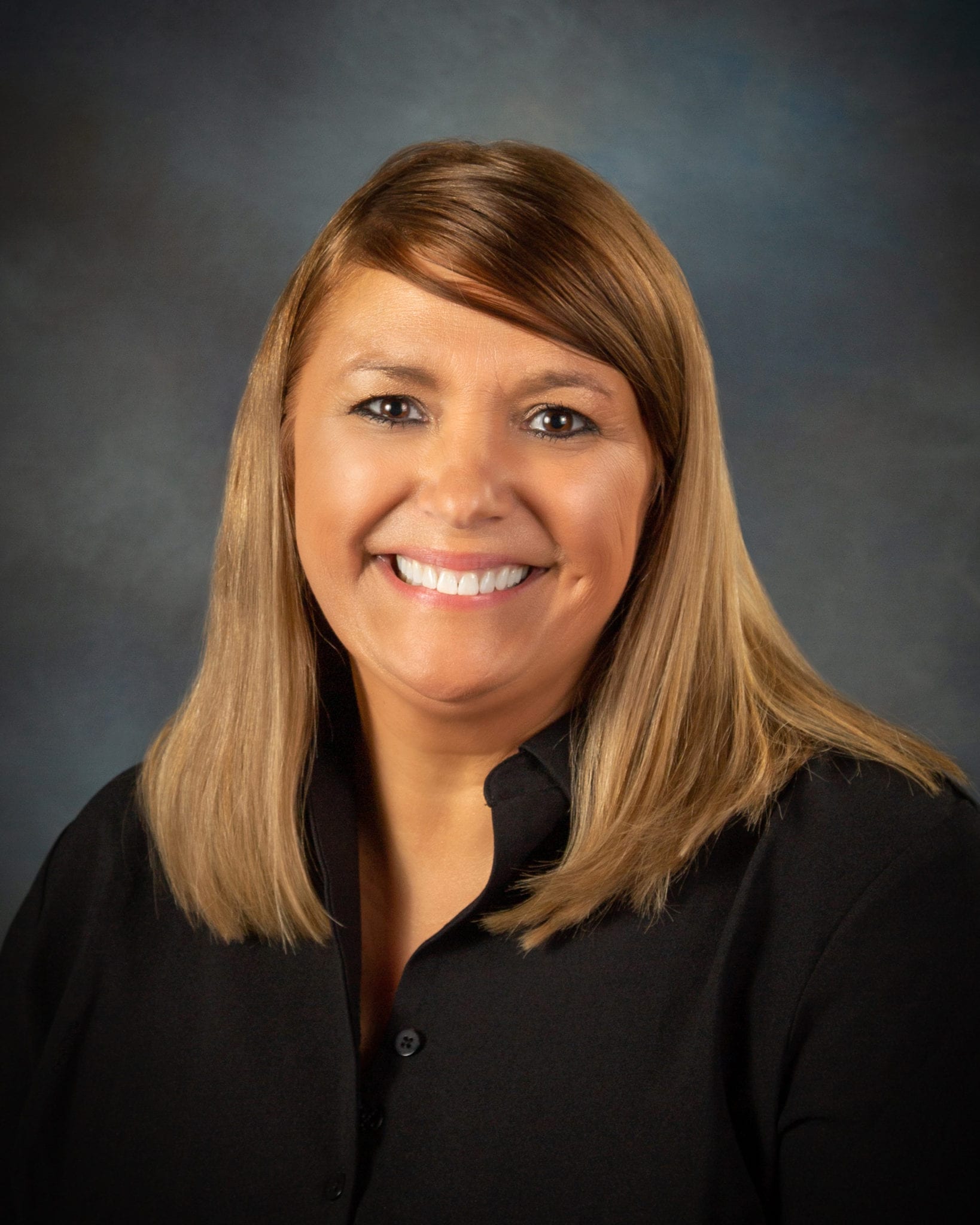 Hi my name is Jamie. I'm originally from Northern Michigan where I met my fantastically handsome husband while attending college. Since then, we've lived all over the United States and raised one beautifully talented daughter.
I've spent the past 16 plus years in Dentistry. I've been extremely blessed to work with some of the best dentists and practices in the country. Ive been employed by Schmitt Dental Rudolphtown since 2018.
I've always been a huge animal lover, spending time volunteering, donating and participating in numerous fundraising events all while raising our family of 5 doggies and kitties!
I must also confess my obsession with travel! It began many years ago as we visited and explored some of the most beautiful parts of this country and others! So many places to see and so little time!
Available in Location: Rudolphtown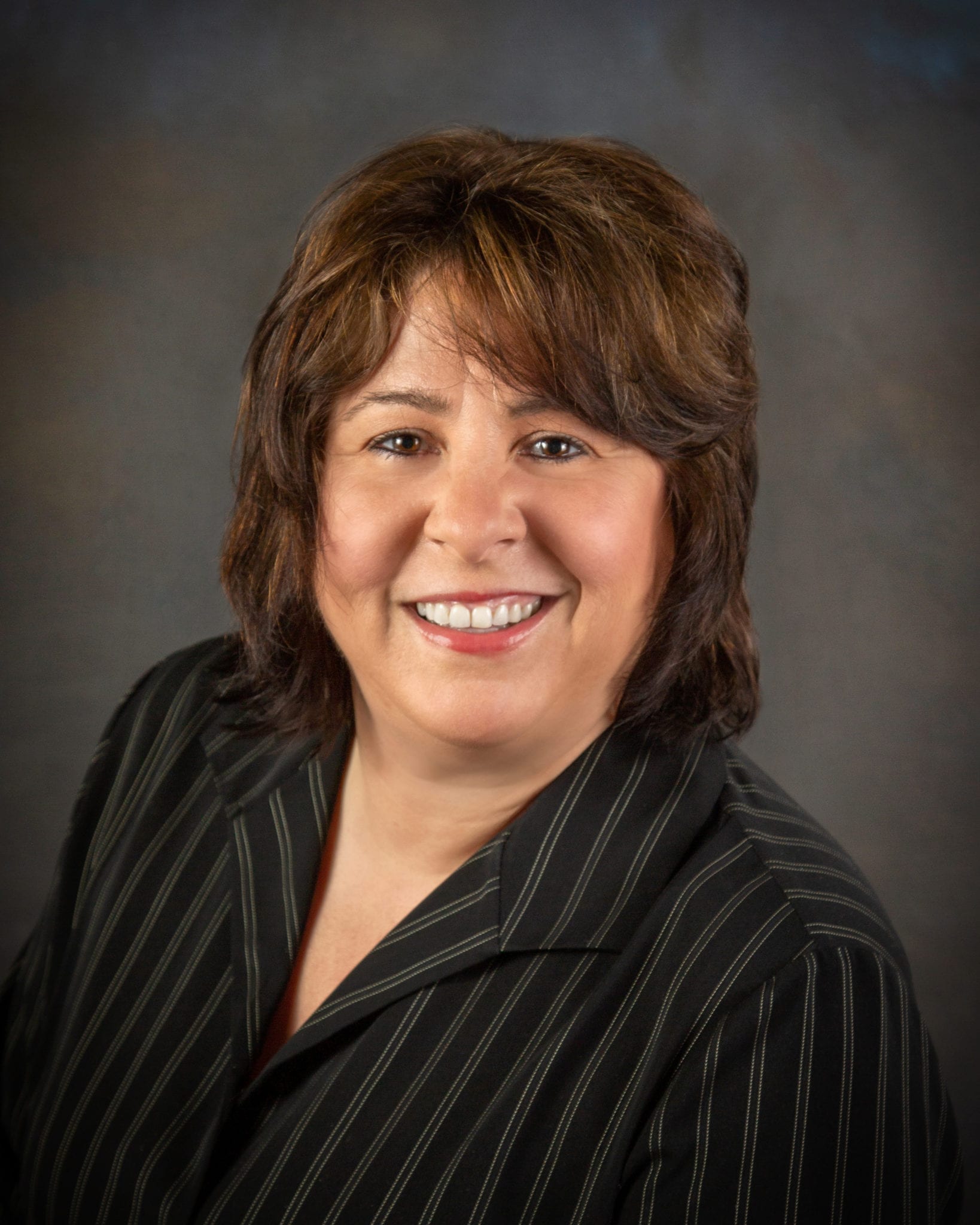 Hello may name is Wendy and my family and I moved to Clarksville in 2016. I have been in the dental field over 20 years and with Dr. Steve since 2018.
Outside of work you can find me looking for the next best dining experience, shopping, or floating in the pool by day & sitting by the fire w/s'mores into the night with family, friends, and fur babies.
Favorite Movie: Good Will Hunting
Favorite Quote: "Success is liking yourself, liking what you do, and liking how you do it.". Maya Angelou
Available in Location: Fort Campbell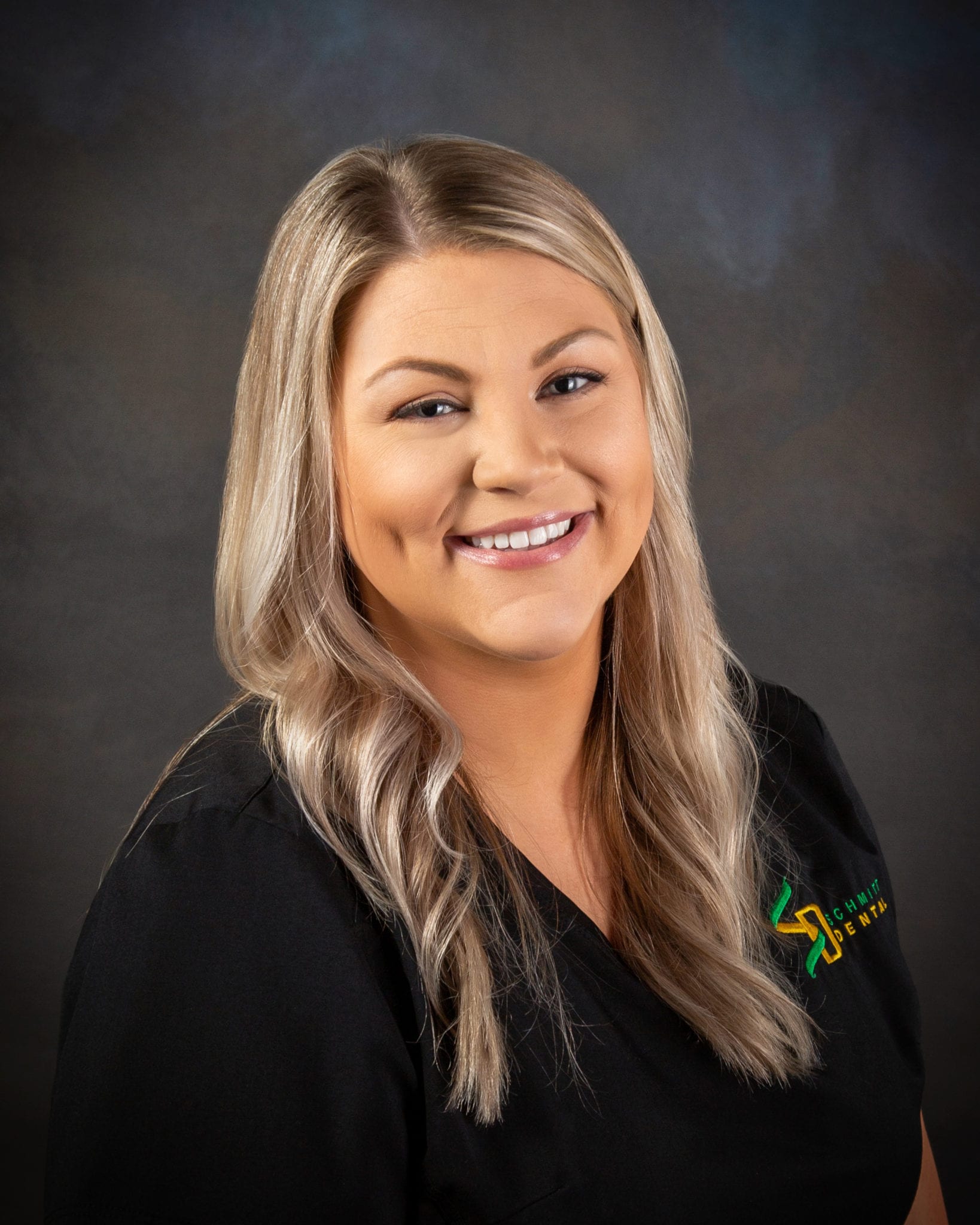 Hello, my name is Laci. I am happily married and we have a sweet, energetic little boy that keeps us on our toes. I enjoy being outdoors (hunting, fishing, etc.) , photography and enjoying quality time with my family and friends.
I graduated Dental Hygiene school from Remington College in 2016. I chose to be a dental hygienist to help people feel more confident and to feel good about about themselves. I truly want to make people feel happier after leaving from learning on how to take control of their oral health.
Favorite Movie: This is 40
Favorite Quote: "If you see someone without a smile, give them one of yours.". Dolly Parton
Available in Location: Rudolphtown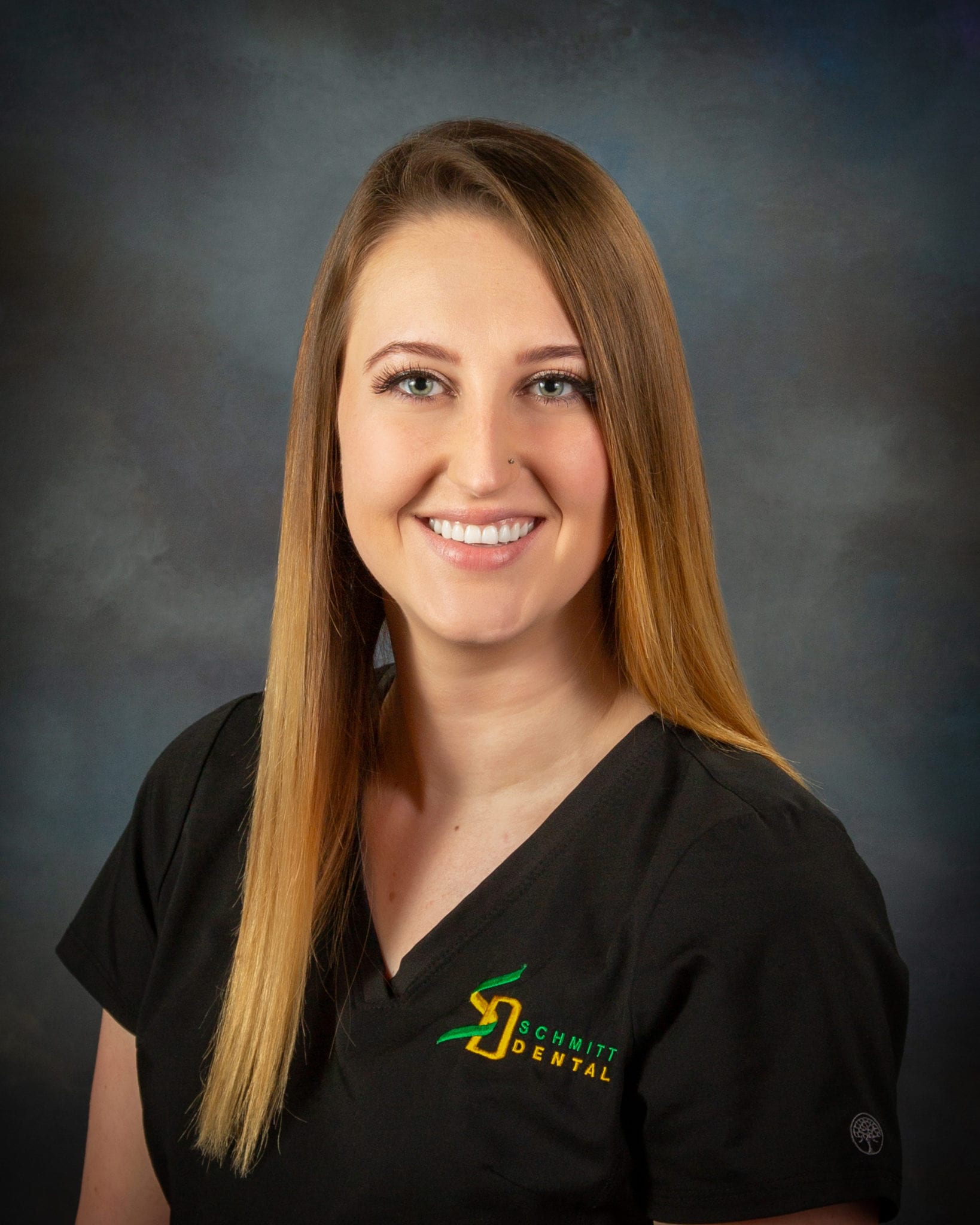 Hello, my name is Ashley, I am a Clarksville native. I have been a Registered Dental Assistant with Schmitt Dental since the fall of 2018, however, I started working in the dental field in 2016.I am currently enrolled in college so I can achieve my goal of becoming a Registered DentalHygienist. When I am not working I enjoy spending my time with friends and family.
Favorite Movies: Labyrinth, Interview with the Vampire, the 'Burbs & Scream 1-3
Favorite TV Shows: Law and Order SVU, Shameless & X-files
Two Favorite Quotes: "Not all those who wander are lost. ". J. R. R. Tolkien
"Laughter and tears are both responses to frustration and exhaustion. I myself prefer to laugh,
since there is less cleaning up to do afterward".Kurt Vonnegut
Available in Location: Rudolphtown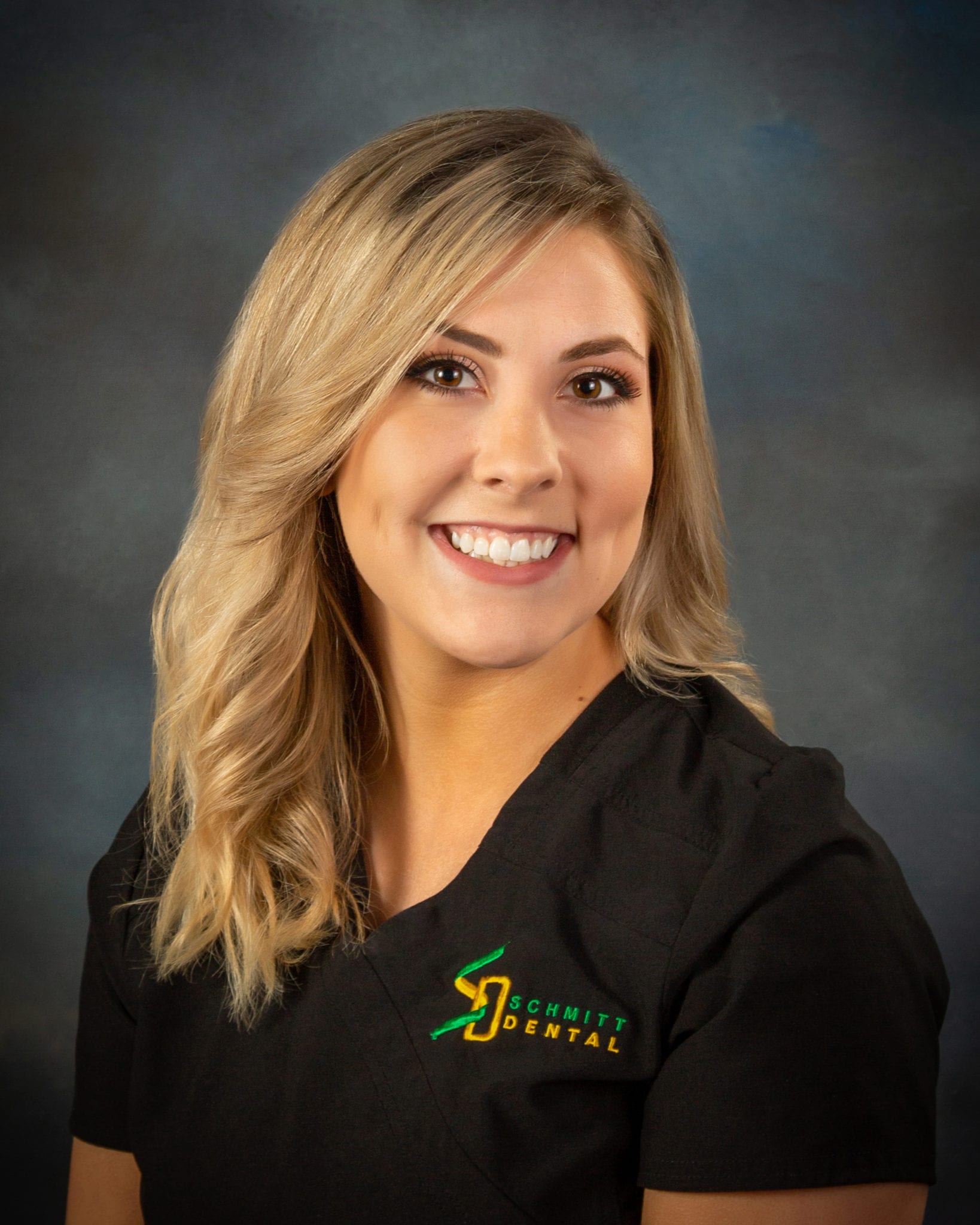 Hello, my name is Brooke Bunton and I have been a Registered Dental Assistant for 2 years now. I have been fortunate enough to call the Schmitt Dental Family my home since June of 2019. Outside of work I enjoy spending time with my family and friends, being out on the water soaking up the sun, or going to the gym working out!
Favorite Movie: The princess bride
Favorite Quote: "Happy people provoke emotions so strong you cannot help but falling in love with their refreshing attitude of life".
Available in Location: Fort Campbell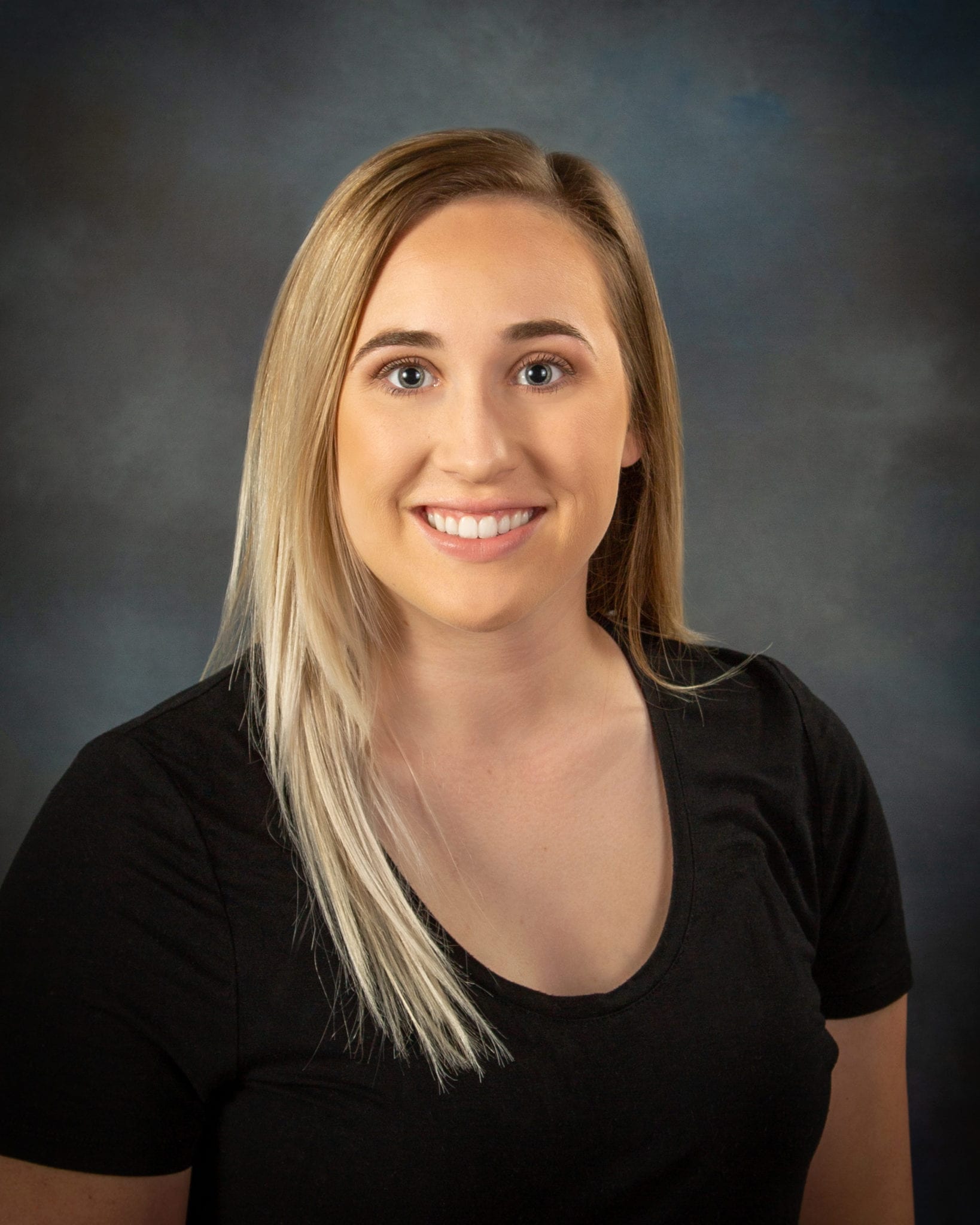 Hello, my name is Ashland and I am originally from La Vernia Texas. I moved to Clarksville 2 years ago after I married a soldier and was stationed here. I have a 7-month-old little girl who keeps me on my toes. I have been in the dental field for 1 year now and I love it. Outside of work I love spending time with my family, taking long road trips to different states and renovating our home.
Available in Location: Fort Campbell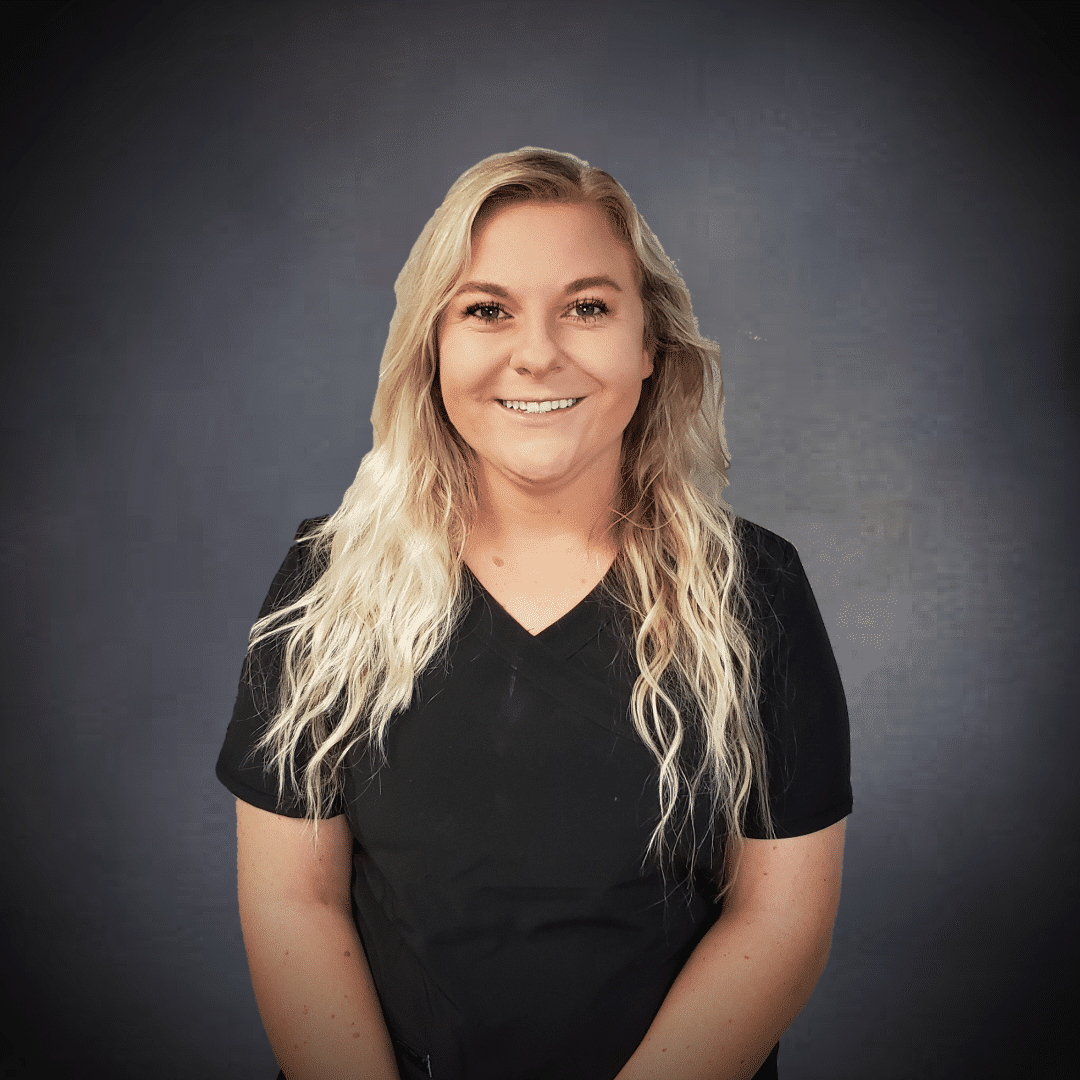 Brandy is a Mt Juliet native with family ties all the way to Ireland. She is a Registered Dental Assistant and is currently attending college at Vanderbilt University pursuing her undergraduate degree in Biochemistry. She is hoping to further expand her career by applying to Dental School in the near future.
Brandy loves helping our patients achieve great smiles. She strives for a positive impact on patients dental experience both in and out of the office. She loves seeing the confidence our patients gain and how much better they feel upon completion of treatment. Outside the office Brady loves to spend her time traveling and exploring new places.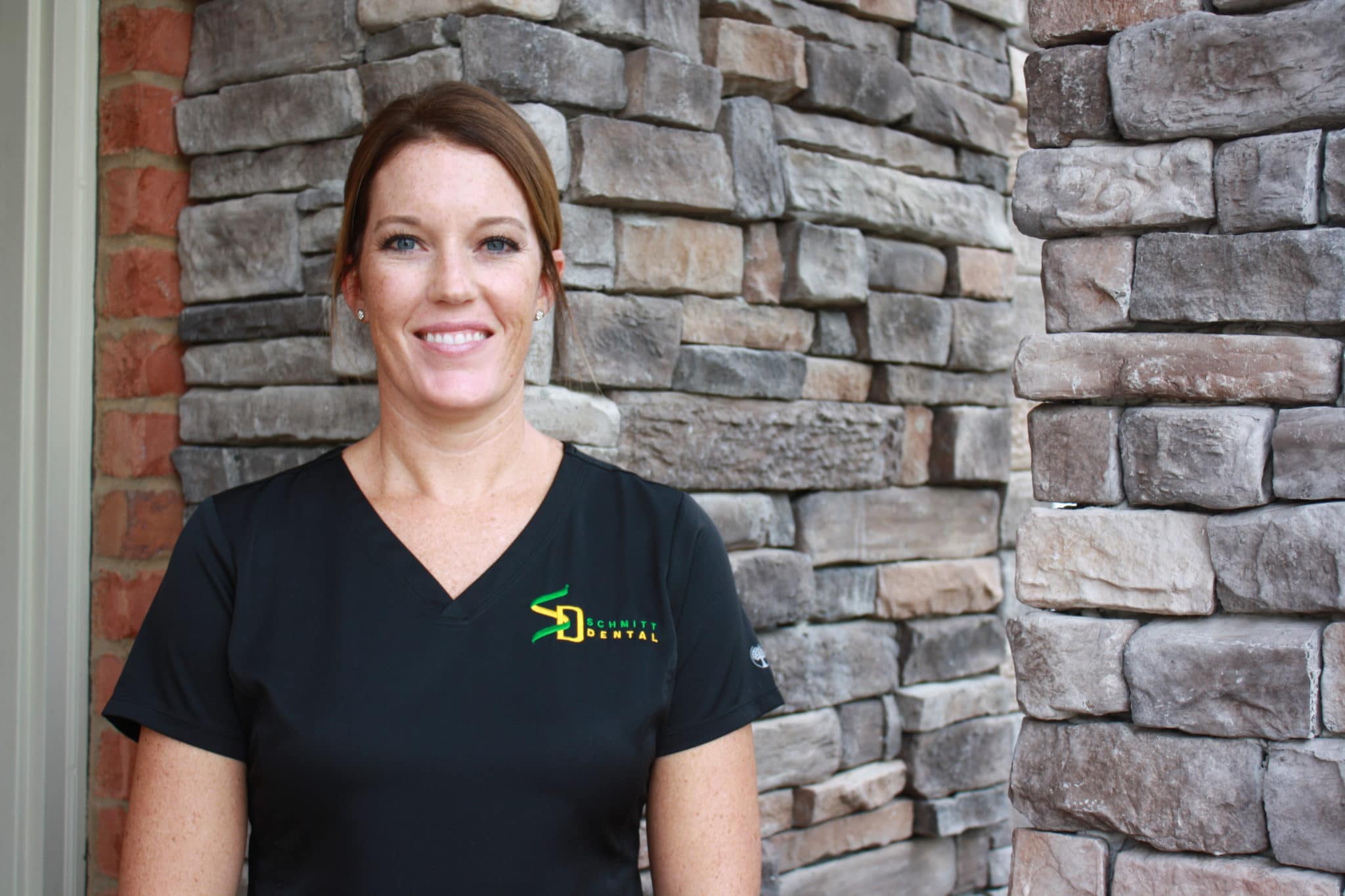 Hi, my name is Kelly, and I'm a native of Mt. Juliet, Tennessee. I received my Bachelor of Science in Dental Hygiene from Western Kentucky University in 2008 and have worked as a dental hygienist since. I absolutely love developing relationships with my patients and helping them obtain optimal oral health. Outside of work, I can't get enough time with my son and all his social activities! On the weekends, you'll find me boating, dining at the newest restaurant, and spending quality time with friends and family. Favorite movie: P.S. I Love You.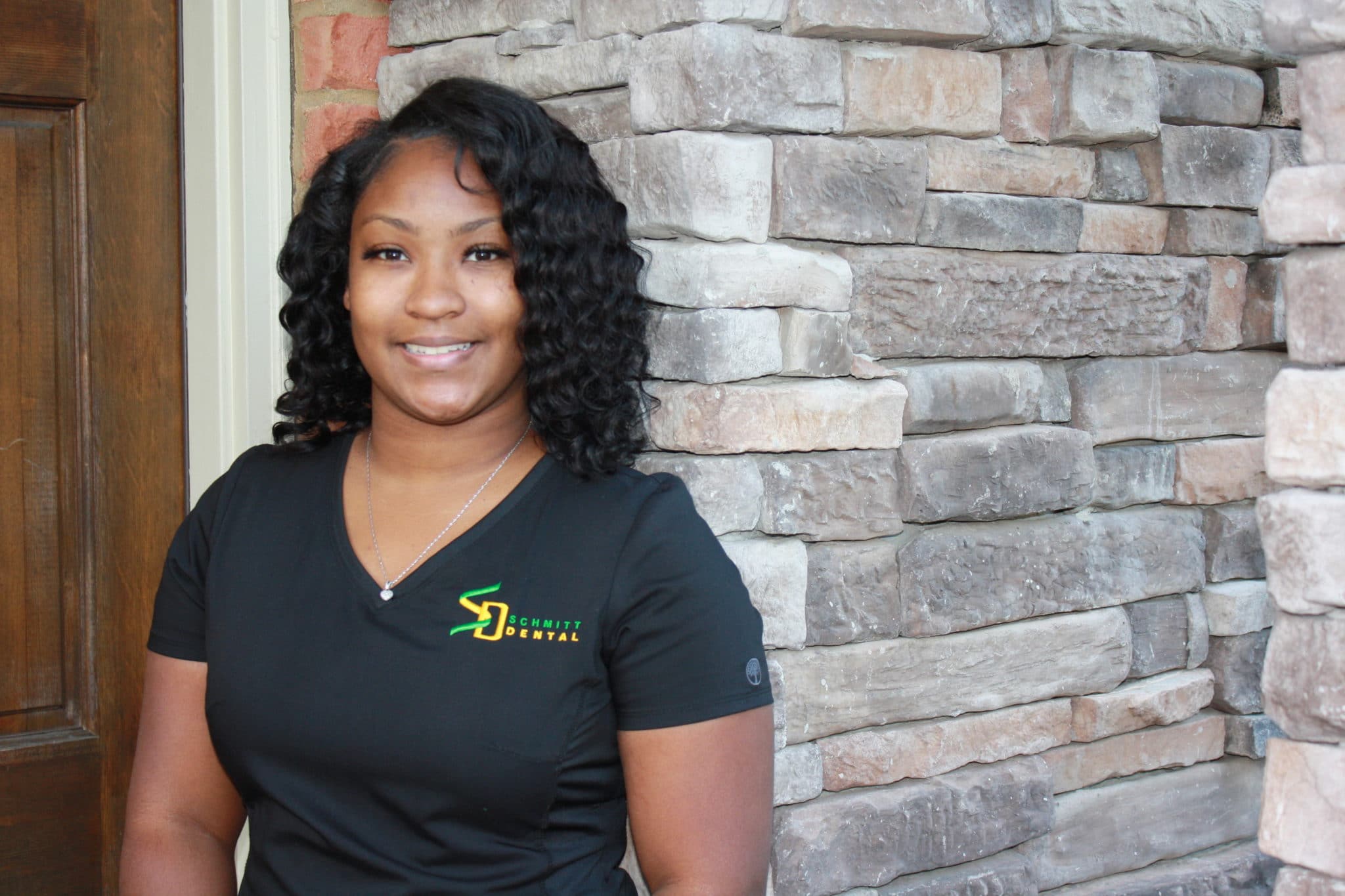 Lynn is originally from Vicksburg, MIssissippi. She joined our practice as our Front Office Coordinator.. Lynn is the first person you will see when you enter our office. She is so welcoming to all our patients and always has a smile on her face. Lynn can answer your questions about insurance and treatment costs and always go the extra mile to make sure you have the best all around experience in our office.
Lynn is also a Registered Dental Assistant and graduating from Dental Staffing School in 2018. She is always ready to lend a hand to the back office when they need her.
Her spare time is spent with her family, traveling and watching sports. GOOOOOO TITANS!!!!! Her favorite movie is Big Hero 6.
Mary has been a Registered Dental Assistant since 2007. She studied at TN Technology Center of Murfreesboro, Tn and UT Memphis. She expanded her license in 2019 by becoming an Expanded Functions Dental Assistant. (EFDA) She can now help with more functions such as fillings. Mary can also monitor Nitrous Oxide, place sealant and take x rays for the Dr.
Mary enjoys getting to know the patients and helping them to better understand dental procedures. She does her absolute best helping the Dr and whole team in providing the best dental care and dental experience possible.
When Mary is not in the office she enjoys time with her husband and son. They are huge football fans and spend as much time as they can at the field.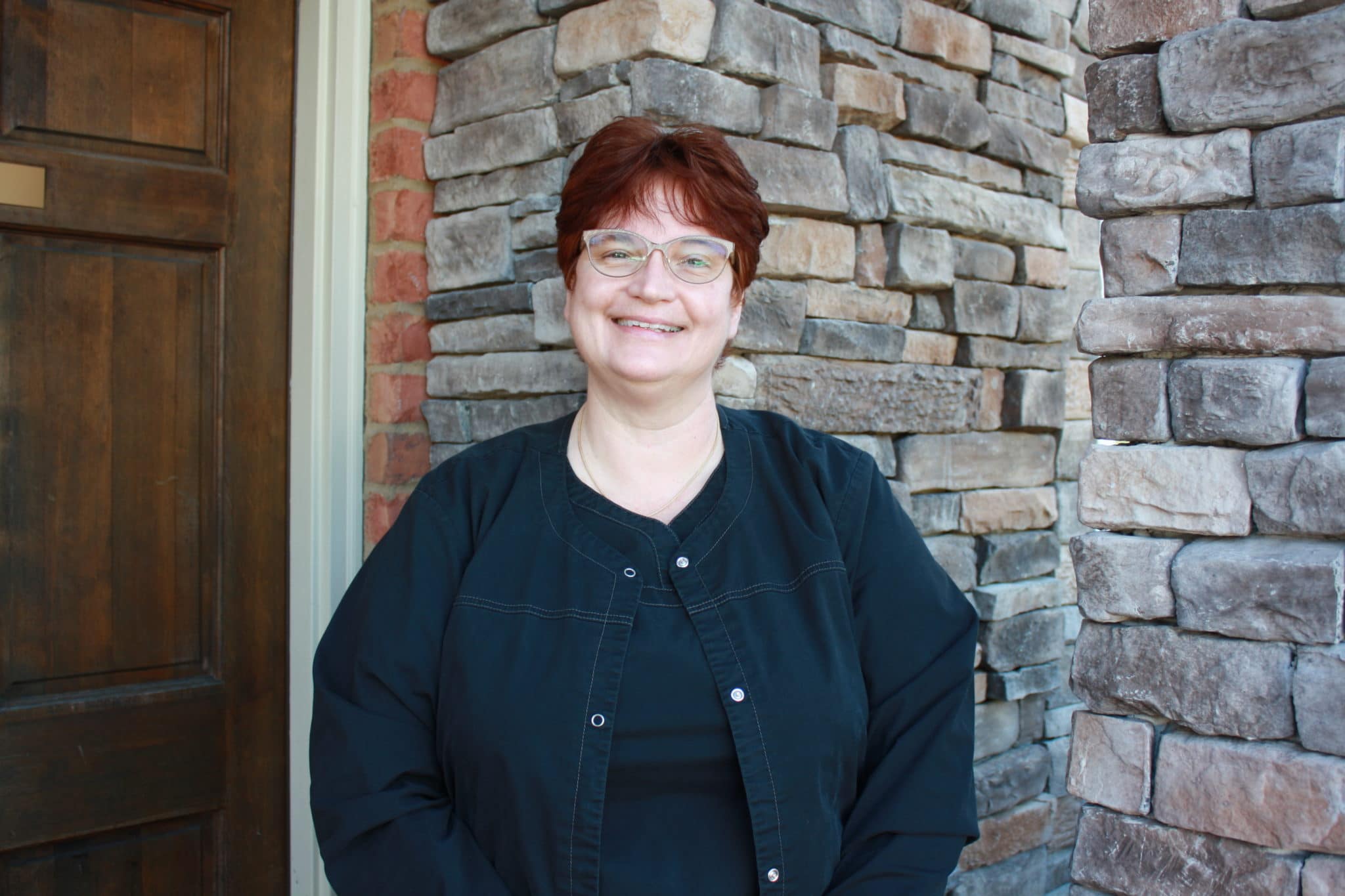 Ann is one of our three dental hygienists. She moved from Ohio to beautiful Tennessee 5 years ago. Ann began her career in 1996 and has a special love for the field. She enjoys providing optimum Oral care and education to all our patients. Ann welcomes partnering with her patients to help you achieve and maintain a smile for a lifetime.
Outside of work her two daughters and keep her busy along with her newest addition, a granddaughter.
Schedule Your Dental Consultation Today!
Schmitt Dental proudly serves those in Clarksville, Brentwood, and nearby areas in Tennessee. Call (931) 647-3960 for our 2313 Rudolphtown Rd. address in Clarksville, or call (931) 552-7745 for our other Clarksville address located on 1692 Fort Campbell Blvd. You may also call (615) 373-0883 to schedule your consultation with our Brentwood office!