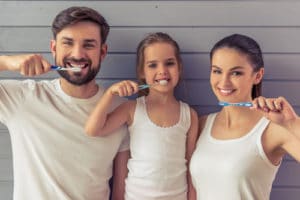 Do you recall the last time you changed your toothbrush? Do you know when you need to? While many of us remember to check food expiration dates or change the batteries in our smoke alarms, it is not uncommon to forget about changing one's toothbrush. The dentists at Schmitt Dental of Clarksville, TN encourages patients to learn more about when to swap out their toothbrush or other oral health products.
When should I replace my toothbrush?
There are a few factors to take into consideration when it comes to the replacement of a toothbrush:
The American Dental Association recommends the replacement of a tooth brush every three months
The fraying of the bristles, which can lead to ineffective brushing
Changing the toothbrush immediately after getting over an illness to avoid reinfection
Avoid sharing a toothbrush with others in the household, and store toothbrushes upright and away from others
What if I don't change my toothbrush?
A toothbrush that is old or overused can harbor bacteria and harmful organisms. They can also contain mold if not stored properly. Additionally, patients who have had a recent illness will want to avoid reusing a toothbrush, possibly reinfecting them again.
What about electric toothbrushes?
The same rules apply for electric toothbrushes. They need to be changed as well to be the most effective in cleaning the teeth and gums. Electric toothbrushes often have heads that can be purchased and swapped out as needed. The same results apply for electric toothbrushes. They should be stored properly and cleaned before putting away.
How else can I maintain my oral health and wellness?
Floss at least once a day
Eat a nutritious diet low in sugars and acids
Visit the dentist every six months
Call the dentist when problems arise
By following these recommendations, most patients can achieve and maintain oral health and wellness for life.
Do you have more questions about the tools you use to keep your smile healthy?
If you are interested in learning more about oral health care habits such as the frequency of swapping out your toothbrush, call Schmitt Dental today to book a consultation visit with our team.