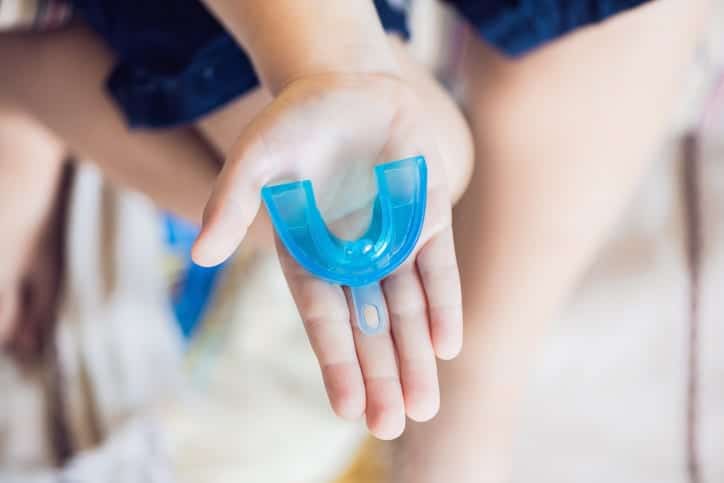 Clenching and grinding your teeth is more than just something you do during times of great stress or anxiety. For some people, this condition occurs all the time! Medically known as "bruxism," this condition can be bothersome for many reasons. Clenching and grinding create serious oral health issues for most patients. It can contribute to:
Extensive wear of natural tooth enamel
The development of TMJ/TMD disorders
Breakage of restorations such as crowns and veneers
Pain and discomfort of the jaw muscles
Because this condition impacts one's dental health, professionals from Schmitt Dental may recommend patients who have bruxism consider the benefits of using a mouth guard.
What is a mouth guard?
Special mouth guards are available for patients who have bruxism and other conditions such as TMJ/TMD. This special appliance is worn at night to reduce tension on the upper and lower dental arch, while cushioning the area to protect teeth and dental restorations. In addition, patients who experience jaw pain from their condition may notice that this is lessened with the use of a mouth guard.
What are the benefits of a mouth guard?
Patients who wear a mouth guard when they experience bruxism will find that the appliance is comfortable and easy to care for. It is an inexpensive way to protect the smile while reducing discomfort and tension caused by this condition. These appliances are made to fit the patient's mouth for optimum comfort and effectiveness, and are simple to use.
How much does a mouth guard cost?
Cost of the mouth guard will vary due to several different factors. Patients who have dental insurance may be able to utilize benefits to lower or eliminate the cost of their appliances, so we urge individuals who are considering this option to bring their dental insurance plan cards. Our front office team can determine if the patient can reduce the cost of the  mouth guard with benefits from their specific dental plan.
Discover the benefits of using a mouth guard for bruxism
Some patients cannot control their condition, so it is essential that they consider the benefits of treatments and solutions to reduce the risk of problems occurring. Contact the team of Schmitt Dental at one of our three convenient locations throughout Clarksville, TN to discuss your options.