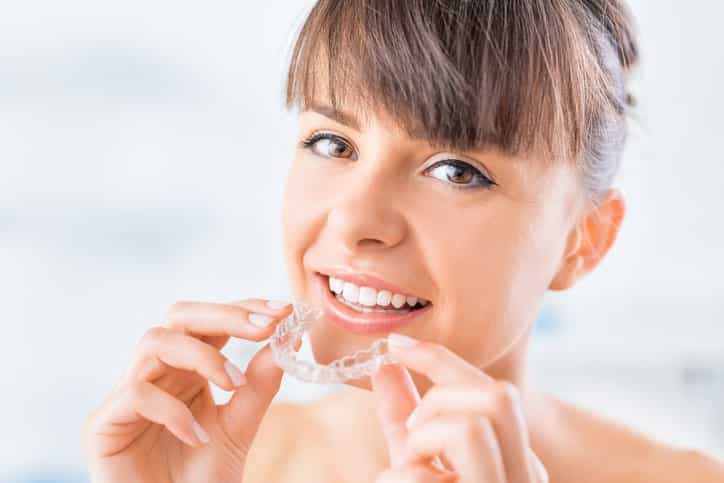 Invisalign is a popular treatment for patients in the area of Clarksville, TN who are interested in strengthening the teeth without the use of traditional braces. Drs. Schmitt and Oh of Schmitt Dental are dental providers ready to help patients achieve the smile of their dreams. 
How does Invisalign work?
Patients interested in realigning their teeth often think traditional braces are their only option. However, metal brackets and wires are not the only way to achieve these results. Invisalign works differently. Invisalign utilizes clear plastic aligner trays that are made in a series. Patients wear each tray one at a time for two weeks until they have completed treatment. By the end of their treatment, which is often around one year or less, they will have a newly transformed smile!
Who is a candidate?
The best patients for Invisalign are individuals who have mild to moderate misalignment of the dental arch. Invisalign works not only for minor misalignment of the teeth for cosmetic purposes, but for patients with poor bite alignment. Invisalign can improve cross bites, overbites, and underbites. Patients are urged to visit the team of Schmitt Dental to undergo an evaluation and x-rays to decide if they are right for treatment.
What other methods of realignment are available?
Our practice offers Invisalign for patients who qualify, but for those who don't, a referral to an orthodontist may still be in order. This is why we evaluate patients thoroughly to ensure that they are a good fit. A referral to an orthodontist may mean that patients still require metal bracket and wire braces to achieve the results they desire.
What are the benefits of Invisalign?
Invisalign is best known for being:
• Affordable 
• Effective
• Discreet
• Comfortable
• Easy to use
• Easy to care for
Is it time to consider Invisalign?
Patients are often not aware of their candidacy for this and other cosmetic treatments available at Schmitt Dental. If you or one of your family members are interested in straightening the smile with Invisalign, call one of our two office locations today in the area of Clarksville, TN. Drs. Schmitt and Oh are committed to providing the care patients require to look and feel their best!