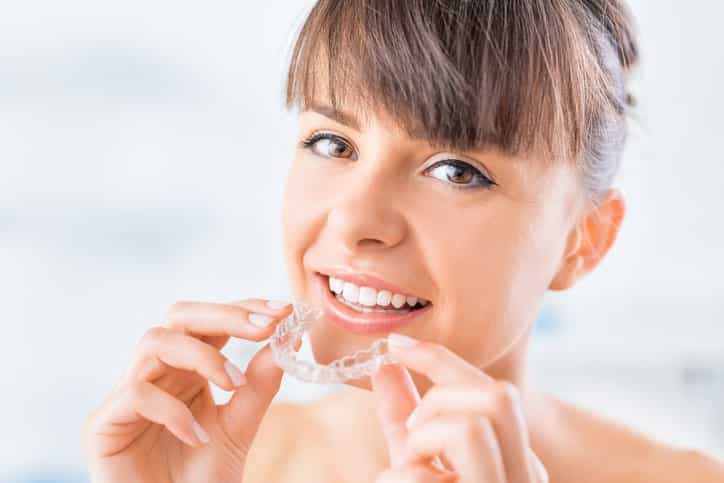 Clarksville, TN patients who have an imperfectly aligned smile may be nervous about mentioning these imperfections with their dentist. They may be afraid that the dental team at Schmitt Dental will advise patients to move forward with traditional braces, using metal brackets and wires covering the smile for months or years. Thankfully, our practice offers a more discreet alternative to allow patients the opportunity to transform their smile without dealing with unsightly appliances. Drs. Schmitt and Oh may suggest Invisalign orthodontics.
What is Invisalign?
Without the use of metal brackets and wires, patients are able to realign their teeth with a method called Invisalign. Invisalign is a special orthodontic treatment that uses clear plastic aligner trays to gradually reposition the teeth into alignment within the arch. These trays are worn day and night to provide noticeable changes in the dental arch, closing gaps and positioning teeth that may have become turned or misaligned over the years. 
How long do patients wear the trays?
To achieve the desired results, patients must wear their trays for at least 20 hours a day. They can remove them for eating, drinking, brushing, and flossing. Every two weeks, the patient will switch to the next tray in the series and progress accordingly to the very last tray. By the time patients get to their final tray, they will see the final results achieved.
How are the trays made?
Drs. Schmitt and Oh take digital impressions of the patient's current smile and send these software-created impressions off to the Invisalign laboratory where trays are made in a series to achieve better alignment. This is entirely computerized and allows for precision adjustments to the teeth within the smile.
Take time to learn more about Invisalign orthodontics with Drs. Schmitt and Oh
At Schmitt Dental, we welcome patients in and around the community of Clarksville, TN who are interested in straightening their teeth and enjoying the benefits of a beautiful smile. With Invisalign orthodontics, all of this is possible! Call our Rudolphtown Road office at (931) 647-3960 to discuss the benefits of this and other cosmetic services available in our practice to find ways to enhance your smile!