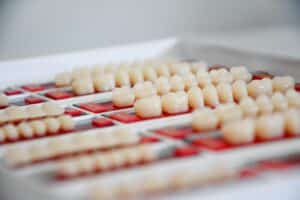 For decades, dental crowns have been an instrumental part of dentistry. These covers literally 'cap' over a tooth that is damaged, such as through injury or disease, and restores the strength, function, and appearance of the tooth. A dental crown is a vital restorative tool that completely covers a damaged tooth and, because of the care taken at Schmitt Dental to shape, size, and install the dental crown, can help to regain your mouth and eliminate oral pain associated with a damaged tooth. All this to say, dental crowns are an important tool to reclaim oral functioning. However, did you know that there are different types of dental crowns? If you're considering getting a dental crown, or have just been informed that you will need one, keep reading to learn your options!
Gold Dental Crowns
Despite the name, these dental crowns are actually a gold-alloy, containing gold as well as other metals. The main purpose of the gold dental crown when compared to the others is they have exceptional strength and durability. These types of crowns are typically recommended for restorations in the back of the mouth.
All Porcelain Dental Crowns 
Living up to their name, all-porcelain crowns are made entirely of porcelain and are prized for how well they imitate the look of a natural tooth. They are custom designed to match the rest of your teeth in shape, size, and, most importantly, color. These are typically used for front teeth restorations due to their aesthetic appeal and advantages. Plus, because of their lack of metal, they don't pose any risk to summon who may be sensitive to metals. It is important to note that, unlike metal dental crowns like gold dental crowns, they are not as strong and may not last as long.
Porcelain Fused To Metal Dental Crowns
PFM crowns hope to meld the advantages of the gold dental crown with the allure of the all-porcelain crown by providing the strength of the gold crowns and the aesthetics of the all-porcelain crown.
Have More Questions About Dental Crowns? 
Then come to one of the most experienced and wisest dental specialists in all the land; Schmitt Dental. The doctors and team at Schmitt Dental have incomparable knowledge and experience and are able to answer any questions you might have. Give us a call at 931-647-3960 or check out our website to see your nearest location!