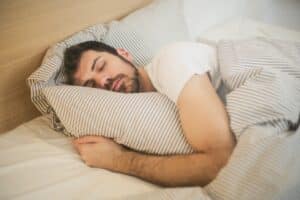 Snoring, fatigue, insomnia, morning headache, dry mouth, and daytime sleepiness are all symptoms of sleep apnea. However, not all sleep apnea is the same. There are two primary types of sleep apnea that function very differently from each other but often show similar symptoms. Let us delve into the difference between obstructive and central sleep apnea and what it means for your sleep apnea treatment.
Central Sleep Apnea
Central sleep apnea is a less common form of sleep apnea. However, it is equally as damaging. Central sleep apnea is when the brain is improperly sending signals that control your breathing. This means there is likely not anything wrong with the airway itself, but the signals being sent to it.
This can be caused by many different things, like neurological disorders, strokes, and heart failure, and it can even happen while sleeping at a high altitude. Central sleep apnea is often treated by resolving underlying conditions or with oxygen-assisted sleeping. Thankfully, central sleep apnea is far less common than obstructive sleep apnea.
Obstructive Sleep Apnea
Obstructive sleep apnea is far more common and is what most people think of when sleep apnea comes to mind. Obstructive sleep apnea is when something is physically obstructing your breathing while you sleep. This is often your tongue, soft palate, throat, or something else in the airway. Your muscles relax as you sleep, and your breathing can be hampered by a narrowing of the airway.
Your body will naturally wake itself for a moment to unblock the airway before falling back asleep. This can happen a couple of times a night or hundreds of times. This leads to the various negative effects of sleep apnea. Obstructive sleep apnea is often caused by things like being overweight, genetic predisposition, old age, asthma, hypertension, and other factors.
Treating Obstructive Sleep Apnea
While central sleep apnea can be difficult to treat because it's a neurological condition, obstructive sleep apnea has far more physical treatment options. Our team at Schmitt Dental provides treatment options for obstructive sleep apnea that can get you back to having a restful night.
Our team of doctors understands that sleep apnea can be a draining situation, and you want solutions that will alleviate your symptoms. That's why our staff at Schmitt Dental will assess your situation and provide the most efficient treatment available. Take the first step towards a snore-free night and contact Schmitt Dental at 931- 552-7745 for west Clarksville or 931-647-3960 for east Clarksville.