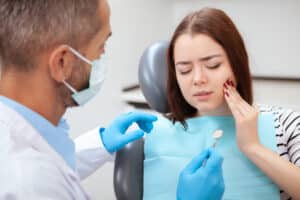 A dental emergency can range in severity, but, in general, if you're experiencing severe dental pain that cannot be tolerated or a tooth has become damaged, you should seek emergency dental care right away. Some examples of dental emergencies include a knocked-out or dislodged tooth, chipped or broken tooth, severe tooth or mouth aches, and significant cuts or sores in the mouth. Schmitt Dental can provide you with a quick diagnosis and treatment to relieve pain and discomfort.
What to Do in a Dental Emergency?
If you're experiencing a dental emergency, call your dentist first. Schmitt Dental provides immediate, professional emergency dental care services in Clarkesville, TN. Until you get into their office, there are a few tips you can follow to care for the issue and minimize pain, such as:
Taking over-the-counter pain relievers (i.e., Tylenol or Ibuprofen)
Eat soft foods to minimize pain (i.e., smoothies, mashed potatoes, yogurt)
Rinse with lukewarm salt water for sores or inflammation
If it is outside of normal business times and the issue cannot wait, you should contact 911 or visit an urgent care or emergency room.
What if You Have Knocked Out a Tooth?
In the case that a tooth has been knocked out, don't put it in water or a bag. Immediately place the tooth in milk. Milk keeps the tooth alive until it can be implanted back into the mouth due to substances in it, like sugar and antibacterial agents, that the tooth needs to survive.
Then, apply gauze, a cotton ball, or a tea bag to the exposed socket where the tooth came from. If the tooth is chipped, save the chipped piece, rinse it, and bring it with you to your appointment.
Contact Schmitt Dental Right Away for Emergency Dental Care
Getting to a dentist right away is vital if you're experiencing a dental emergency. Failing to care for a dental emergency can result in worsening symptoms and further damage to the teeth, gums, or mouth. Smitt Dental can provide you with reliable emergency dental care in Clarkesville, TN. Experience relief by contacting our East Clarksville office at (931) 647-3960 or our office on the west side of Clarksville at (931) 552-7745. You can also contact them through their website for more information.