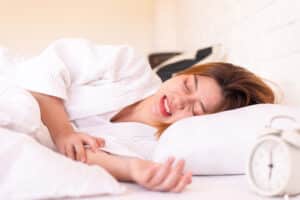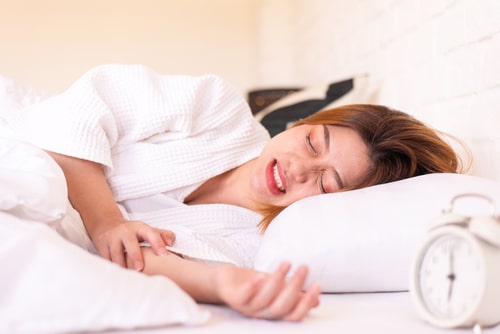 At Schmitt Dental, we see patients with a wide range of dental concerns. This includes unexplained breakage of the teeth or problems with jaw pain and chronic headaches. Patients experiencing these issues may be dealing with a condition known as bruxism.
Understanding bruxism
If you receive a diagnosis of bruxism from our dentists at Schmitt Dental, you may have questions about it. Bruxism is best described as clenching and grinding of the teeth that happens either during the day (subconsciously) or, more commonly, at night when you sleep. This can be caused by stress, anxiety, TMJ/TMD, or even certain medications.
Unfortunately, bruxism can have significant effects on your oral health. We encourage patients to note that these problems do not usually present right away and can often worsen over time if left untreated. You might not even be aware that you have bruxism, but damage and wear on the natural teeth and dental restorations are often a tell-tale sign to our dental team that bruxism is at play.
What is the impact of bruxism on my smile?
Bruxism can have a variety of impacts on your smile. It can cause:
Sensitive teeth
Unexplained breakage
Crumbling of weak or brittle teeth
Pain in the jaw joints
Chronic headaches and migraines
TMJ/TMD symptoms
How can bruxism be treated?
For some patients, simple lifestyle changes may make an impact. This might include lowering stress levels or changing prescription medications if these are the cause of the condition. Alternatively, our team at Schmitt Dental might recommend a customized night guard to be worn during sleep. These specially-designed oral appliances are created to prevent teeth grinding and clenching that can cause long-term damage while cushioning the teeth and dental restorations to protect them from breakage.
If you have questions about bruxism or would like more information, please contact Schmitt Dental!
Our dentists provide care for patients in and around the areas of Clarksville and Brentwood, TN, across three different practice locations. Call one of our offices to request a consultation visit and initial evaluation to get a proper diagnosis of bruxism and discuss appropriate treatment solutions that fit your lifestyle.