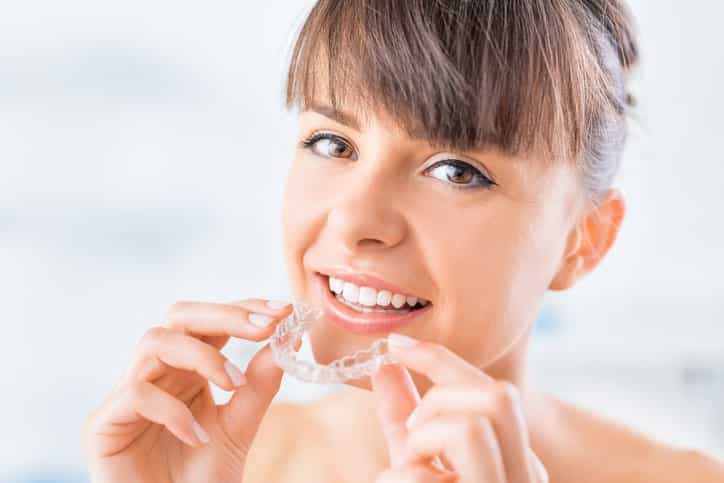 At Schmitt Dental, Drs. Schmitt and Oh welcome patients who are ready to completely rejuvenate the appearance of their smiles. With solutions such as Invisalign available for patients with misaligned teeth, patients are able to achieve the look they've always wanted! Our staff is here to provide the best selection of general, cosmetic, and restorative dentistry solutions to patients in the area of Clarksville, TN.
Understating Invisalign treatment
What sets Invisalign apart from more traditional means of orthodontics is the ability to straighten the teeth without the use of metal brackets and wires. Instead, Invisalign uses clear trays which are used in aligning the teeth gradually. Patients achieve realignment by wearing their trays every day for at least 20 hours. An entire series of trays is provided from the start, and patients wear them in order for two weeks at a time. With proper compliance, patients can completely transform their smile in less than a year in most cases.
Who can use Invisalign?
Invisalign is not for everyone. We encourage patients to book a consultation appointment with our team at Schmitt Dental for an evaluation and to determine if they quality for use of Invisalign treatment. The best candidates for this solution are those with mild to moderate malocclusion, which can include cosmetic alignment or poor alignment of the bite. Invisalign can treat overbites, underbites, and cross bites. Also, patients should also understand the importance of compliance. If patients do not wear their trays as recommended, they may experience delays in obtaining their smile and additional costs if new trays need to be made because of unexpected alignment changes. When patients consider Invisalign, they should do so knowing that they need to comply.
What are the benefits of Invisalign?
Invisalign is:
• Affordable
• Fast
• Discreet
• Efficient
• Easy to care for
• Simple to use
Interested in Invisalign?
Discuss your options for treatment with the team of Schmitt Dental. Drs. Schmitt and Oh are available in two office locations in the Clarksville, TN area. Our 2313 Rudolphtown Road location can be reached at (931) 647-3960, while our 1692 Fort Campbell Boulevard location can be reached at (931) 552-7745.