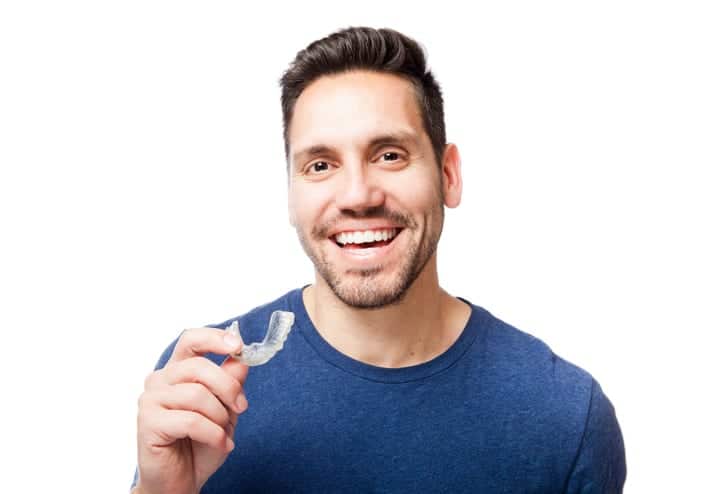 When patients are faced with malocclusion of their natural teeth, they may be fearful of undergoing traditional orthodontia. Not only do they have to be referred to another specialist whom they don't already know and trust, but then they have to deal with months and sometimes years of metal brackets and wires. Not only are conventional braces unsightly, but they can also have a negative impact on one's oral health and wellness. This is because it can be more difficult for patients to brush and floss around these appliances to keep their smile fresh and healthy. Food particles, plaque, tartar, and even bacterial can develop around the brackets and behind the wires. Flossing can be more difficult, working around the appliances to achieve satisfactory results. Instead, the team at Schmitt Dental encourages patients with mild to moderate misalignment to consider the benefits of Invisalign orthodontics as another way to manage their smile's appearance and health.
Invisalign vs. conventional braces
Invisalign orthodontics works differently than traditional braces. Instead of gluing brackets to the teeth and using wires to connect them together and move them into place, Invisalign uses clear plastic aligner trays custom-made specifically for the patient. Drs. Schmitt and Oh can evaluate a patient and help them decide if this treatment is right for them. The primary advantage of Invisalign is that is allows patients to maintain their oral health and wellness. It does this by giving patients the chance to remove the trays from the dental arch and brush and floss their teeth as they normally would. This eliminates obstructions that can make it difficult otherwise.
Call for an appointment today!
Patients in the area of Clarksville, TN who are interested in finding out more about Invisalign as an alternative to traditional braces are encouraged to book a consultation appointment with Drs. Schmitt and Oh at one of their two convenient locations, 2313 Rudolphtown Road at (931) 647-3960 or our second office at 1692 Fort Campbell Boulevard which can be reached by calling (931) 552-7745. Patients in and around the area and surrounding communities are encouraged to take the time to learn about general, cosmetic, and restorative dentistry services available in their state-of-the-art facilities.