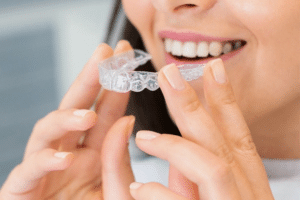 Though it would be a wonderful thing if everyone's teeth grew in a perfectly aligned Hollywood smile, that is unfortunately not the case for most people. There are countless reasons why and ways how teeth can become misaligned over the course of one's life. Thankfully, with the rise of modern dental practices and orthodontics, it has never been easier, more straightforward, or more cost-effective to correct tooth misalignment issues. And one of the most commonly sought-after treatments for minor to moderate misalignments and malocclusions is Invisalign treatment.
There are a lot of reasons why Invisalign treatment is such a beloved option, but here are three of the main benefits you'll hear no matter who you ask:
They're Highly Discrete
First and foremost, Invisalign boasts effective and lasting treatment—similar to that provided by traditional metal and ceramic braces—all the while being an incredibly discrete option. As you can assume from the name, the clear aligners that are fundamental to the Invisalign treatment are practically invisible when worn. This means you can wear them during your day-to-day errands and work-related tasks without feeling self-conscious, as nobody will likely even notice that you're wearing them!
They're Easily Removable
Another great reason to consider Invisalign treatment is that they are quick and easy to pop in and out of your mouth as needed. Though you'll want to wear them consistently for at least 20-22 hours a day, they are not a 24/7 commitment. Whether you need to take them out for an important business meeting or are simply ready to chow down on your favorite foods, Invisalign is one of the more convenient tooth alignment treatments that are available.
They're Supremely Comfortable
To finish off, Invisalign is simply comfortable to wear. This is because the Invisalign clear aligners are created from a unique and highly-malleable thermoplastic material that is custom-designed to slowly and gently guide your teeth into proper alignment. Plus, the material is soft and gentle on the gums, especially compared to the metal brackets involved with traditional braces.
Align Your Smile With Top-Notch Invisalign in Tennessee
If you're ready to realign your smile with ease and style thanks to Invisalign treatment, then reach out to Schmitt Dental—located throughout the greater Clarksville, TN, area. You can reach out to their Clarksvill location at (931) 647-3960, or one of their other offices with the information provided here on their Contact Us page.