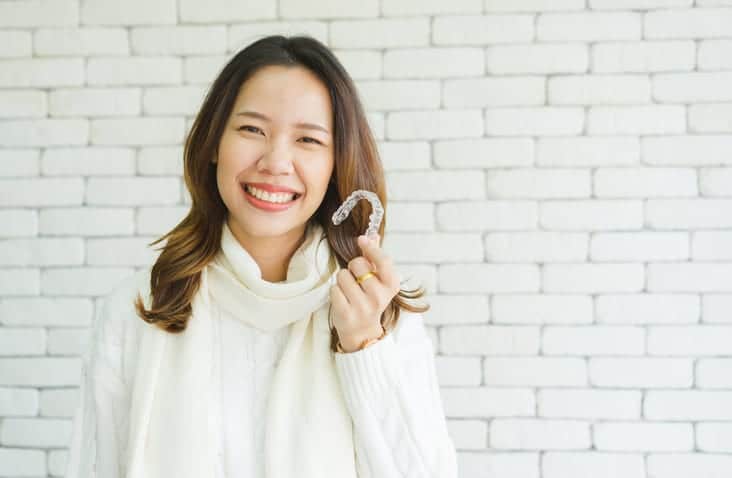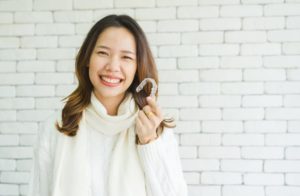 Patients of the Clarksville, TN area with uneven, misaligned teeth may be embarrassed to talk to their dentist about orthodontic work. Fortunately, with continued advances in dentistry and orthodontics, patients now have choices they can make when it comes to realigning the teeth. At Schmitt Dental, patients can ask about Invisalign!
What Is Invisalign?
Our providers describe Invisalign as a tooth alignment alternative to traditional bracket and wire braces that are used for enhancing the smile and addressing malocclusion. Invisalign works differently, using clear plastic aligner trays to achieve the desired results. With Invisalign, patients can improve their smile while still feeling confident throughout the process.
Why Choose Invisalign?
Invisalign is often the clear choice when it comes to restoring smile alignment. There are many reasons why our patients love Invisalign.
Advantages Of Invisalign
Aligners are removable. Brushing around metal brackets and wires can be difficult, but Invisalign allows patients to take the trays out to brush, floss, eat, and drink. This improves overall oral health.
Discreet appearance. Because the aligner trays are made to fit precisely over the teeth and are fabricated with clear plastics, they are difficult to discern from the smile and allow patients to enjoy the benefits of teeth straightening without anyone knowing!
Comfortable trays. The aligner trays are fabricated using digital CAD/CAM technology and software, ensuring a proper fit that is comfortable. There are no brackets and wires to rub against the tongue or cheek to cause discomfort.
Fewer visits. As long as patients are compliant with their Invisalign treatment, they will not need to see the dentist as often as they would their orthodontist as there are no adjustments to be made.
Easy to clean. Invisalign aligner trays are easy to clean and care for, and each tray is used for two weeks before the patient's progress to the next tray in their series.
Learn More About Invisalign
With the team of Schmitt Dental, patients in the areas of Clarksville, TN can obtain orthodontic solutions to improve the smile. If you are interested in discussing Invisalign with a professional, call one of our three locations to schedule a consultation appointment with one of our experienced providers.